Danny Willcott went to business college for a year right after high school, but today the Farm Bureau Financial Services career agent says he received his real education in on-the-job training.
Willcott says he was attending Kansas City Business College when a recruiter for American National Insurance stopped by one day.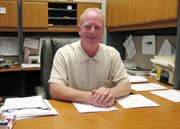 "I was really interested in the business, and I got hired on the spot," Willcott recalled. That first job left Willcott on the road more often than not, so, when a spot opened at the Armed Forces Insurance office in Leavenworth, he leaped at the chance.
In the next 18 years, Willcott said, he received a full education in the world of insurance.
"Armed Forces : I actually learned the business there," he said.
Five years ago, in February 2001, Farm Bureau had an opening in Lansing, and Willcott landed the job. Today, he sells annuities, life insurance, homeowners insurance, auto insurance, disability insurance and a realm of other products and services.
"We pretty much fill the need for anything you'd want to insure," Willcott said. "I always tell people, 'Anything you see when you leave your house in the morning and drive to work, we can insure.'"
When he's not in the office talking to clients, Willcott said he likes to spend time on the golf course with his buddies back from his days at Leavenworth High School. He also likes to putter around his 8 acres west of Lansing on his John Deere tractor.
Name: Danny Willcott
Address: 23120 147th St., Leavenworth
Occupation: Insurance career agent for Farm Bureau Financial Services, Lansing
Family: Wife, Yvonne; sons Ryan, 17, and Kyle, 15 (both golfers at Lansing High School)
How long have you lived in Lansing and what brought you here? I was born and raised in Leavenworth; my wife graduated from Lansing High School. We're bluebirds from years ago and just kind of stayed in the area.
What do you like most about Lansing? The closeness to Kansas City and just the friendliness of all the people
What do you do for fun? I golf. I'm a member of Leavenworth Country Club.
What would surprise people about you? I like getting on my John Deere tractor and working on my 8 acres.
What's the best advice you ever received? Never say no unless someone asks if you've had enough.
What organizations or clubs do you belong to? Lansing Kiwanis and Leavenworth Country Club