Lansing resident answers call for Chiefs
Tom Young and his nephew, Ryan Young, had a seat inside Arrowhead Stadium that few ever get.
Earlier this month, Tom Young, a Lansing resident and president of Young Sign Co. in Leavenworth, and his nephew were working on signs inside the home of the Kansas City Chiefs. One of their projects required them to be hoisted by a 160-ton crane up and over the giant scoreboard on the stadium's west side.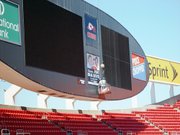 There, from a bucket, the two replaced facings on advertisements on the scoreboard.
"Those things we were working on are 12-by-12 feet each, and they look like postage stamps to anybody looking at them from the stands," Tom Young said.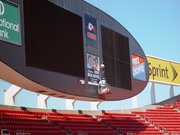 This year marked the first time Young Sign Co. had done any work inside Arrowhead. In addition to the scoreboard signage, Young workers also repainted a speaker box on the east end of the stadium and replaced signs throughout the concession areas on the stadium's Club Level.
Tom Young said Young Sign Co. had done jobs at Verizon Wireless Amphitheater for 10 years, Kemper Arena for four years and recently had done work at Community America Ballpark for the Kansas City T-Bones and at The Legends shopping center in Kansas City, Kan.
"We're getting our foot in the door with the big boys," he said.
Tom Young is the son of Ada and Gene Young, a columnist for The Current.