Leadership gets new sponsors
Rod Briggs and Ben Doll are all about coaching. Whether they're on the playing field or in the classroom, they want to train Lansing High School students to be leaders for life.
Briggs and Doll are the new co-sponsors of Leadership. The social studies teachers and coaches recently began their first school year at LHS.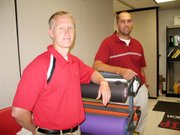 Briggs comes to LHS from Liberal, where he taught for four years. He's also varsity boys basketball coach and an assistant football coach. This is his 18th year of teaching.
Briggs has also taught at schools in Wichita, Ulysses, Parsons and Garden City. He said he couldn't pass up the opportunity to be involved in the Leadership program.
"It's important to involve students in the planning of the school," he said. "A lot of times, adults make decisions for students. This gives them an important role to plan activities and get involved in service projects that are valuable to learning."
Briggs and Doll will also team up on the court, where Doll will serve as an assistant boys basketball coach.
Doll, who is in his eighth year of teaching, taught for seven years at St. Thomas Aquinas High School in Overland Park. During his past four years there he served as a moderator for the freshman class by overseeing class representatives' projects and fundraisers.
Doll said the biggest difference between his prior experience and LHS was that LHS provided a Leadership class that allowed class representatives a regular block of time to work on projects together.
Doll and Briggs meet with many of the class officers and council representatives every day during Leadership class, during fifth hour. Doll said designating a time to meet daily helped ensure that project goals and deadlines would be met.
He said he felt fortunate to co-sponsor Leadership.
"We're lucky as teachers, I think, because we have a class a day where we get some of the best and brightest students at Lansing and get to work with them personally," he said.
Doll and Briggs replace Sarah Wise, who served as Leadership sponsor for one year before taking a teaching and coaching job at St. Mary's High School. Before Wise, Kevin Riemann sponsored the program, which he launched in 1995.
DEALING WITH CHANGE
The sponsorship changes in the last two years have prompted senior leaders to take charge, said Jessica Bradford, senior class vice president.
"I think we've had to take a little more responsibility than usual since there's so many new people this year that the ones who were in it last year have to really step up and let everyone know what's going on and not be babied by a teacher as much as we might have last year," Bradford said.
When all positions are filled, eight students represent each class on the Leadership Council. Council members hope to fill the remaining 18 seats when elections take place Friday, Sept. 1. The student body will elect incoming freshman and fill the vacant upperclassmen seats, provided enough students run in the election.
VETERAN LEADERS
Senior class council members said they were dedicated to keeping the program afloat, despite the sponsorship changes and challenges of keeping all the seats filled.
Riann Deere, senior class president, Elizabeth Cristiano, senior class treasurer, and Kalon Thrasher, senior class representative, are representing their class for the fourth consecutive year. They said the experience would help them throughout their lives.
Cristiano said Leadership also was important in promoting unity throughout the school.
"No matter what group you might affiliate yourself with, whether it be sports, a club or the art program, anyone can participate in Leadership activities," Cristiano said. "It's a unified school activity."
This is senior Bradford's third year in Leadership. She said the experience had influenced her career plans.
"Being in Leadership is what's made me want to do something in business management or administration because you're in charge of things and you tell people what needs to be done," Bradford said. "That's what we do in Leadership. We get things done."
MOVING AHEAD
Council members are making plans for Fifth Quarter, a post-game party the council will play host to Sept. 8. Activities after the Lions' first home football game will include Twister, Dance Dance Revolution, movies and badminton.
Throughout the year, Leadership will coordinate traditional activities, such as the annual Thanksgiving meal for the community's senior citizens, drug awareness week and Late Night for Leukemia, a benefit for the Leukemia and Lymphoma Society. In April, students walked 450 miles during Late Night and raised $7,500. This school year, their goal will be $8,500.
Abby Hauver, senior class secretary and second-year representative, said those projects demonstrated Leadership's primary goal of reaching out to people and making an impact.
"We're the group that sets the example for the school and sets the tone for the school spirit and what we want to accomplish as a school," Abby said. "It's great being a part of leading the student body, getting them involved and fired up."