LHS

volleyball season starts early this year
When the Lansing High volleyball team opened its season last year at the Lansing Invitational, most of the Lions' opponents already had played six matches.
Usually a dominant force at their home tournament, the Lions looked like a team that hadn't played a match as they lacked consistency and showed signs of fatigue.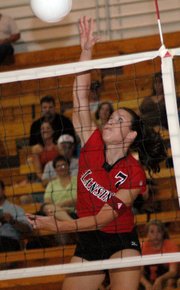 LHS coach Julie Slater hopes to rectify that problem this year. She asked activities director Gary Mattingly to schedule an earlier competition so the Lions could gain additional experience before playing their home tournament.
"I told Gary, 'We have to play. I don't care what you do, but we have got to play before that tournament,'" Slater said. "You've got to get back in the gym and fix some of the little things that are wrong."
Slater's wish was granted. The Lions open their season Sept. 6 with a challenging home quadrangular against Mill Valley, Turner and Blue Valley. Then they'll play host to the Lansing Invitational on Sept. 9.
Slater wasn't the only one excited by the opportunity to start the season sooner. Senior Jessie Dellinger also thought it was a good idea.
"I'm really excited, because every chance we get to play or practice, it makes us that much better," she said.
The transition might not happen quickly. Nine new varsity players join returning starters Kate Courtney, Riann Deere and Dellinger, so the Lions will spend most of the season trying to jell.
"A team isn't something that's just put together. It's made, and we have to make it," she said.
The Lions hope Wednesday's quad will provide answers to a few lingering questions with the lineup. Among them are who will start, who will play where, and who will start at setter. Juniors Kristen Jensen and Sara Logan and freshman Breanne Sanders are battling for the starting spot at setter. A number of other newcomers also are competing for starting roles.
Another benefit of the early competition is that the new players will get to shake off first-match jitters before playing in the home tournament. Most of the players grew up in Lansing, so playing on the LHS varsity has been a long-time dream. Count Logan among that group.
"I'm looking forward to being able to play my first varsity match at home with these girls, because I love this team and I can't wait to be playing at Lansing," Logan said. "It'll be really fun."