Luncheon helps 'Share the Hope'
Cancer was written on the faces of those that gathered last week at the Trinity Lutheran Church, but their eyes revealed a common purpose - their eyes shined with hope.
Resolve fortified the faces of the survivors and their families, but it shone strongest in several who would stand in front of the Share the Hope assembly to speak in support of the fight.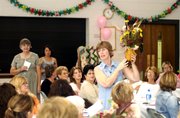 Banding together is an important key to recovery, according to Linda Long, who spoke at the event on Saturday, Aug 26. Cancer can be a lonely disease, she said, because patients often conceal their illness, even to family and friends.
"People come out of the woodwork once they find out you've been diagnosed," Long said before her speech, relating the bond that cancer can create. She posed a common question cancer patients must resolve. "That's another choice you have to make. Is this going to be something I share, or is it something I'm going to keep to myself?"
Long was diagnosed with breast cancer in January this year. Exactly 30 days later, doctors operated to remove the lump. It was a success.
At the time of diagnosis, Long was involved with the Relay for Life, a nationwide event that raises awareness and funds for cancer. Her involvement with the event, however, did not always make it easy to open up.
One of the hardest parts she remembers was breaking the news to her children. Even for Long, whose children are grown, it was a carefully crafted message.
"It was my choice to downplay it so they wouldn't worry," she said.
But while the desire to protect loved ones is common, it sometimes leads to negligence in testing. Too often, the ease of avoiding proper checkups overcomes practical safety, Long said.
"The only message I want to convey is that women - it doesn't matter what age you are - they need to have a mammogram," said Long, a Bonner Springs resident. "They need to have a baseline."
Long said she was lucky because doctors found the cancer in its beginning stages. Early diagnosis is crucial, she said, but it's not a luxury that all cancer patients share.
"If I'd have waited -" she said, pausing. "You know?"
Shawn Cupp brought a new perspective to this year's Share the Hope luncheon. Doctors diagnosed his wife, Kim, with cancer in 2002. It was her second bout with the disease after nearly 12 years of health.
Silence can be even more attractive when you're a man and a husband, Cupp said.
"It's hard to talk about, and you don't want to talk about it," Cupp said. "Because you are so overwhelmed, and you got to be in control, and you got to be the provider and you got to be the caretaker."
Cupp, a teacher at Fort Leavenworth's Command and General Staff College, said a deluge of support followed his wife's diagnosis and that for him, it provided a grounding distraction.
Coordinating the generosity of friends and coworkers - sometimes even refusing it - allowed him to remain in control of at least one aspect of his life.
"Without all that support, I probably would have went batty," he said.
Cupp said he hoped his speech - delivered to a mostly-female audience - would filter back to men and set a good example of open dialogue.
"One woman came up to me afterward and said, 'You got a lot of nerve getting up in front of all these women and just baring your soul about what you went through,'" Cupp said. "I said, 'Maybe I do but I think it's important that they hear it.'
"At least the perspective of one man's struggle."
Like Long, Cupp used his opportunity to speak at the event as a way to endorse regular checkups and cancer awareness. Often cancer strikes where it is least expected, he said, explaining the false sense of security he felt after his wife's first recovery.
"Most people understand the statistical reality that they're going to experience something of this kind in their lives," he said. "But you don't think it's going to happen twice."