No monkey business for intern
Imac grad spends two weeks at sanctuary working with chimpanzees
Lindsey Welch has a motto for life she won't soon forget: "Do No Harm."
It would be nearly impossible for those three words to slip the 23-year-old former Lansing resident's mind - she has a constant reminder every time she glances at the tattoo on her right inner forearm.
"I thought it would be a good life motto," the Immaculata High School graduate said about her tattoo.
Welch took "do no harm" from the field of anthropology, which she is studying at Kansas State University with an emphasis on primatology. Part of the anthropological code of ethics, Welch said, states that researchers should not interfere with, or cause damage to, the people, communities, organizations or animals in their research.
Welch, a senior at Kansas State, had the opportunity to pair her life motto and her interest in primates together this summer when she participated in a two-week unpaid internship at a chimpanzee sanctuary in Oregon.
Her interest in apes was sparked at a young age when Welch would visit zoos with her mother, Vicki Welch.
"My mom would have to drag me away from the gorillas and the chimps," Welch said with a laugh.
Now she is interested in evolution and the similarities between humans and primates.
After searching the Internet, Welch found a program she was interested in at Chimps Inc., a donation-funded animal sanctuary in Bend, Ore., that houses six chimps and three big cats.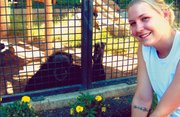 Welch packed her bags and headed to Oregon. She was there from July 15 to July 29 for her job as part of the "sanctuary upkeep" team.
"I did a lot of cleaning of cages," she said with a laugh about her experience.
While the job might not have been glamorous, Welch said she learned a lot about the primates.
"I also got to interact with the chimps," she said.
From 5 p.m. to 8 p.m. most days Welch had downtime to spend with the chimps. She said the chimps communicated with sign language and they most enjoyed looking through photo albums. They were even able to recognize people they liked in photos, such as previous trainers.
"They are so intelligent," Welch said.
While on the job, Welch completed an internship project, which received praise from her supervisor, Amanda Bania. Welch's project was a termite mound, a series of tubes filled with honey or peanut butter in a mound of concrete that serves as a challenging way for the chimps to get snacks. Welch said that Bania told her it was one of the best projects she had seen.
One important lesson she took away from her experience was seeing her supervisors, only several years older, working in a job she would like to have.
Now back at school, Welch said her goal after graduation was to continue working with primates, either through research or in a sanctuary similar to Chimps Inc.
"It was a really good starting point," Welch said about the internship.