Turn on the lights
LHS

to kick off Friday night football with showdown in Tonganoxie
If there's one television show Peter Willcott has been dying to see this fall, it's "Friday Night Lights."
Fortunately for Willcott, a Lansing High senior offensive and defensive lineman, the show about Friday night high school football - based off a book and then a movie - airs on Tuesday evenings.
"That doesn't make much sense, does it?" Willcott said with a laugh.
Perhaps the TV network executives had high school football players in mind when they scheduled the programming.
Willcott plans to keep his Tuesday nights free to watch the show, but he and his Lansing teammates will live the "Friday Night Lights" dream every week this fall, starting at 7 p.m. Friday in Tonganoxie when Lansing kicks off its season against rival Tonganoxie at THS.
"It's senior year. It's just like watching the movie 'Friday Night Lights'," Willcott said. "I'm excited for this year. I'm ready for it to start."
As far as opponents go, Lansing might be opening the season against its toughest opponent. For one thing, Tonganoxie returns a strong nucleus from last year's squad that tied with Lansing and Perry-Lecompton for the Kaw Valley League title.
Then there's the fact that a majority of Lansing students consider Tongie to be their biggest rival.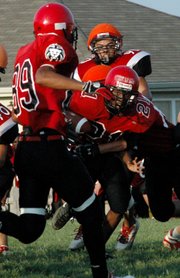 Adding fuel to the fire is the fact that Lansing turned in a performance worthy of being featured on the big screen when it stormed from behind in the final minutes of last year's game - also the season-opener for both squads - to steal a 14-10 victory from Tonganoxie. Lansing's offense hadn't moved the ball all game until then-junior tailback Kyle Grape broke free for two touchdowns in the final 10 minutes.
"It's like a cross-town rivalry game here," Grape said of the matchup with Tongie. "They're going to come out hard, and it's going to be all about who can play four quarters the hardest. For us, we just need to take on the intensity that we had last year in the last few minutes of the game and just have that the entire four quarters of the game."
Senior quarterback J.T. Collins said the Lions know the Chieftains haven't forgotten about last year's game, and he said he expected Friday's meeting to be intense.
"They're going to be coming as hard as we are," he said. "They're going to have a fire in their belly. They tied with us for the league championship last year, and I'm sure they're going to want it bad. We've just got to want it more."
At Thursday's Red-White Scrimmage, the Lions' readiness was questionable. By practice on Monday, however, it was clear they were focused and prepared for the Chieftains.
"I just don't think we were ready for that Red-White," junior defensive lineman Mycol Bowen said. "But we did really well today. Today was a real good practice. We're pretty stoked (to play on Friday)."
LHS coach Bill Pekarek echoed Bowen's sentiments. Pekarek said the intensity in practice was better this week, and he said playing Tonganoxie had a lot to do with it.
"Everybody's getting tired of playing against each other right now. They want to play against somebody else," Pekarek said. "Being your first game, it's not real hard to motivate anybody because you haven't played since last year back in November. We just hope that everybody plays hard, everybody gets their job done and hopefully the game comes out in our favor."