7th-graders take second at Lansing Invitational
Terry Cornett isn't a big fan of moral victories, but the Lansing Middle School seventh-grade girls basketball coach made an exception Saturday when his squad dropped a 31-20 decision to Clark Middle School in the title game of the Lansing Invitational.
Clark boasts a roster with at least four players taller than 5-foot-7 - one of which was pushing the 6-foot mark. The Panthers used their size advantage to beat the Lions 39-8 earlier this season.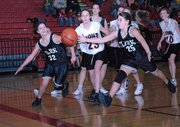 Saturday the Lions were both short and short-handed against the Panthers. Two starters were absent from the lineup because of prior commitments. That seemed to assure another lopsided loss was coming.
Apparently somebody forgot to tell the Lions they were heavy underdogs because they certainly didn't play like it.
"I was a little concerned how we'd show up because the last game we got drubbed pretty good," Cornett said. "But the girls did a very good job. They were more than admirable. Some of them really wanted it."
The Lions fell behind 8-1 in the first quarter, but once they settled down they kept the Panthers within reach for the rest of the game. Gabby Hacker made a layup and a pair of free throws, Tawnee Hall swished a 15-foot jumper and Megan Dike added a free throw late in the second quarter. Suddenly the Lions were within 14-8 at halftime.
Taylor Kroll drained a three-pointer early in the third quarter that pulled Lansing within 14-11. Clark responded by going to its big post players time and again. The Panthers also converted a few fast-break layups and opened up a 21-14 lead entering the fourth quarter. The Lions missed six free throws in the quarter that could've kept things closer.
"I'll bet we missed 10 free throws (in the game)," Cornett said. "If we'd have hit half of those we really would've been in the game. We hit some that kept us in the game, but we missed an awful lot."
Clark pulled away in the fourth quarter for the double-digit victory, but Cornett didn't dwell on the loss. Instead, he said he was proud of his players for bringing a solid effort to the court.
"There's not many moral victories, but I'll take this as kind of a moral victory," he said with a smile. "Taking 20 points off a whoopin', that's pretty good."
Hacker led Lansing with 13 points, Kroll had three, Hall scored two and Dike and Alex Taylor added one apiece. Other team members were Vanessa Smith, Brooke White, Tychelle Coleman, Lori Angello, Micheala Taylor and Maggie Hornick.