Business as usual
New varsity wrestlers blend right in as Lions dominate league dual tourney
Basehor — The Lansing High wrestling team entered the Kaw Valley League Dual Tournament on Saturday with oodles of question marks as six new faces joined the varsity roster.
The Lions returned home with a huge target on their back as the favorites to win the KVL title at the end of the season.
Photo Gallery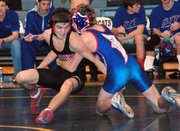 Lansing wins KVL Dual Tournament
Last year's league runner-up, LHS rolled through its pool matches Saturday by beating Bonner Springs, 70-6, Bishop Ward, 72-4, and Perry-Lecompton, 60-18. Lansing then disposed of last year's league champ, Santa Fe Trail, in the championship dual, 44-36.
So how about that bullseye for the rest of the year?
"That's kind of good," said senior Taylor Teeters, who posted a 4-0 record at the dual. "Competition is the reason everybody comes out and wrestles. Why not be the best if you can?"
Lansing certainly was the best team on the mat Saturday. The Lions won 43 of 52 matches. Six Lions - Dennis Wood (103 pounds), Kyle Buehler (140), Nick Flynn (145), Grant Hinckley (160), Casey Caton (171) and Teeters (189) - all went 4-0. In addition, Scott Keller (119), Cullen Demarest (125), Wes Appleget (135), Tyler Strouhal (215) and Josh Martin (275) went 3-1.
Jacob Hansen (130) and Brad Zink (152) both went 2-2.
"Today was a good opening day," LHS coach Ron Averill said. "It was a huge faith-builder. One thing we need to do is believe in ourselves, and the way we came out and competed today I think will be huge for that."
Hinckley may have had the most impressive debut of any of Lansing's new wrestlers. Of his four victories, three were by pin and the fourth was by forfeit. Teeters also had a breakthrough performance after missing the past two seasons with a broken arm. He won two matches by pin, one via forfeit and another in a down-to-the-wire 10-9 decision.
"I can't be more pleased for Taylor Teeters," Averill said. "He has that opportunity to finally step in on varsity where he's been working for the last three years overcoming his injuries and stuff, and he wins huge matches for us. It was great."
Averill said his squad's strong overall showing did more than just boost the Lions' confidence. He said it also gave them direction for the rest of the season.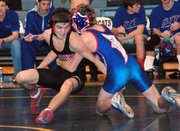 "Truthfully, we still have a long way to go," Averill said. "The nice thing is we have a lot of time to do it. But this was a good stepping stone, and hopefully we can use this to step on up."
Keller said Lansing's victory against Santa Fe Trail was more impressive considering the Lions aren't even at full strength yet.
"We just beat them and we're still missing (Kyle) Grape and we're still missing (Brad) Terron," Keller said. "Those are huge names for us."
Plus, Keller added, the Lions' conditioning isn't where it needs to be yet thanks to two snow days forcing practices to be canceled.
"There were a lot of people gassed who you never see gassed," he said. "There's so much more we can do, and by the time state comes I think we'll be ready and I'm looking at a bunch of different people placing that you never would've thought of (before today)."
Of course, the state meet isn't for two more months. Lansing has other tournaments to focus on first. That includes the Eudora Tournament of Champions, a two-day event at 2 p.m. Friday and 9 a.m. Saturday at Eudora High School.
"The Eudora Tournament may be an eye-opener for some of us," Averill said. "I hope not. Maybe we step up and keep on going, but it's going to be an exciting year to watch us progress."
VARSITY RECORDS
103 - Dennis Wood, 3-0.
112 - Dennis Wood, 1-0.
119 - Scott Keller, 3-1.
125 - Cullen Demarest, 3-1.
130 - Jacob Hansen, 2-2.
135 - Wes Appleget, 3-1.
140 - Kyle Buehler, 4-0.
145 - Nick Flynn, 4-0.
152 - Brad Zink, 2-2.
160 - Grant Hinckley, 4-0.
171 - Casey Caton, 4-0.
189 - Taylor Teeters, 4-0.
215 - Tyler Strouhal, 3-1.
275 - Josh Martin, 3-1.