Exercising the mind
LHS

Scholar Bowl team flexes academic muscles at meet
Topeka — There's no question about it. Lansing High School junior Eric Hansen knows his rivers.
On Saturday, Dec. 2, Hansen was the go-to guy for his knowledge of streams around the world during the Quest Academic Competition at Washburn University in Topeka.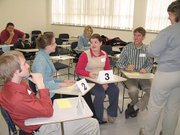 Hansen didn't even flinch when Quest moderator Nelda Gaito asked the LHS team which rivers form at least part of the boundary between West Virginia and Ohio, Pennsylvania and New Jersey, Oklahoma and Texas, and New Hampshire and Vermont.
The Ohio, the Delaware, Red River and Connecticut River, Hansen answered for 20 points.
"I've really liked geography before I even started school," Hansen explained at the end of the competition. "My parents got me this world map as a placemat, and I just looked at it. I like geography. It's my best category."
Hansen's points contributed to the team's combined score of 600 points on Super Saturday, the annual daylong competition where nearly 100 Kansas high schools vie for 16 spots in the single elimination Quest tournament. Formerly HighQ, the academic tournament airs on Washburn University's public television station KTWU, Channel 11.
The top three finishers from 1A through 6A classifications received a trophy.
Also representing LHS in Class 5A at Super Saturday were seniors Olive Filbert, Natalie Hall, Michael Nielsen and Lauren Summers.
Bishop Carroll High School in Wichita took home the Class 5A trophy with 990 points.
Teams had five seconds to answer each of 60 tossup questions, which touched on their knowledge of history, music, government, art, literature and physical science. For each correct answer, the team was offered bonus questions for additional points.
No disappointment
Despite the LHS team's strong showing, it wasn't enough to qualify LHS for a spot in the tournament, which begins in January.
But members of the LHS Scholar Bowl team said they weren't disappointed.
"The questions are insanely fast. You have no time to confer," Summers said.
Hansen said it was probably one of the most difficult tournaments of the year.
LHS English teacher and Scholar Bowl team sponsor Ginny Scott agreed.
"One of the interesting things about coming to Washburn is we do hear different kinds of questions than some of our regular standard tournaments, so you can't always predict how they're going to do. This is a really, really smart bunch of kids," said Scott, who has sponsored the team for more than 20 years.
Fun competition
"The kids like to come to this. They think it's a lot of fun. They earn a lot of points, but I don't regard this as a big tournament as far as our competition and our season," Scott said.
Even though they didn't win any awards at Quest, team members earned points toward a letter for every correct answer.
And, they said, they had a great time.
"We're not nervous because we're not competing against anyone," Hall said, comparing Quest to other tournaments that pit schools against one another in the same room.
Nielsen, who also plays baseball, compared academic competitions to athletics.
"This is more fun," he said.
While team members did take the competition seriously, they weren't afraid to show their enthusiasm.
"Nanook is the Inuit name for polar bear. Simba is the Swahili word for what?" asked Gaito.
"Lion!" sang Summers, showing off her knowledge of the movie and Broadway hit "The Lion King."
Quest coordinator Dena Anson said the event gives academic teams an opportunity to demonstrate the dedication and hard work of the competing teams and their sponsors.
"They compete every week, just like the track team," she said. "It's just absolutely amazing what they know."
Two Leavenworth County high schools brought trophies home from Quest.
Immaculata High School placed third in Class 2A competition, and Leavenworth High School placed third in Class 6A.
Leavenworth High School also made the field of 16 teams to advance to the televised competition. The team will face Mill Valley on Jan. 13.
Successful season
Although it didn't bag a Quest trophy or an opportunity to be quizzed on TV, the Lansing High Scholar Bowl team has had a successful season.
The team has placed in all nine of the other tournaments it's competed in, including a first place win at Tonganoxie.
Also representing the LHS team are freshmen Abbey Lozenski, Anisha Patel and Scott Roberts; sophomores Ezra Carpenter, Clayton Hall and Andrew Shafer; juniors Hal Laurence and Josh Kranhold; and senior Abby Hauver.
To qualify for the team, students take a test and submit two recommendations from LHS faculty members.
Senior Olive Filbert said she took the test every fall and finally made the team for the first time this year.
"I love it. I think it's a really good opportunity," she said. "I'm not coordinated enough to be on an athletic team, so it's nice to team up with others who are around the same academic standing."
Hansen, who also plays tennis, said one of the main differences he's noticed between athletics and academics was the preparation.
He said with athletics, practice takes place during set-aside periods, but Scholar Bowl prep is all-consuming.
"You can read a book, you can watch 'Jeopardy.' Just playing attention in class helps prepare. It's pretty much 24/7 preparation," he said.