Manard waives hearing; attorney seeking plea
Leavenworth — Convicted murderer John Manard waived a preliminary hearing and was arraigned this week in Leavenworth County District Court on charges related to his escape from the Lansing Correctional Facility.
Manard appeared Wednesday, Dec. 6, in court with Terry Lober, his court-appointed attorney, and entered pleas of not guilty to felony aggravated escape and trafficking in contraband for his escape from the prison on Feb. 12 with the help of Toby Young, then director of the Safe Harbor Prison Dogs program.
Judge Frederick Stewart scheduled a pretrial hearing for 11 a.m. Jan. 10.
After the hearing Wednesday, Lober said plea negotiations with Leavenworth County Attorney Frank Kohl were ongoing and a plea deal before the pretrial hearing was possible.
"We're still having discussions as late as this afternoon with Mr. Kohl's office about it, and I'm optimistic we'll be able to work something out," Lober said.
At the time of his escape, Manard was a dog handler in the Safe Harbor program, which Young launched at the prison in 2004. The program accepts dogs from shelters and partners them with inmates who feed, groom and socialize the dogs to improve their chances of being adopted.
Authorities say Manard hid in a dog crate in the back of a Safe Harbor van, which Young drove away from the prison. They also allege that a cellular telephone Young admitted smuggling into the prison for Manard also was used in the getaway.
Lober said Manard was concerned about his future and Young.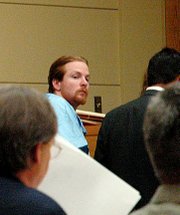 "Their relationship, I think, is real. He's concerned that she's being punished in some fashion for things he may have done," he said.
Lober said his client waived the preliminary hearing because Manard didn't see any benefit in proceeding with it, but the attorney dismissed the notion that a trial would guarantee a guilty verdict.
"There's no such thing as an open-and-shut case, and I'm not going to say any more than that," he said.
Manard and Young were captured 12 days after the prison escape when they were tracked to and chased by authorities in Tennessee.
Young, 49, was sentenced to 21 months in the Topeka Correctional Facility after she pleaded guilty for her role in the escape.
Manard, 27, already is serving a life sentence for first-degree murder, aggravated robbery and criminal possession of a firearm during the 1996 carjacking and murder of a Johnson County man.
Both Manard and Young still face federal weapons crime charges related to the escape.