Plea withdrawn in September dog attack
A Leavenworth woman has withdrawn guilty pleas to seven charges related to a dog attack on a 4-year-old Lansing boy.
Erica Andrews appeared before Judge William Pray in Lansing Municipal Court on Wednesday, Dec. 6, for a scheduled sentencing hearing.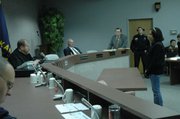 Andrews asked to withdraw the guilty pleas she entered Nov. 1, and Pray granted her request for a trial.
Appearing again without counsel, Andrews was ordered to return to court for trial Feb. 23.
Andrews, 21, had previously pleaded guilty to seven charges in the incident, which took place Sept. 28 at Lansing Heights Townhomes.
The most serious charges - no proof of vicious animal registration, no proof of insurance for a vicious animal, no "beware of dog" signs posted and no leash or muzzle - each could bring a $1,000 fine and/or up to six months in jail.
Three additional charges each carry a $75 fine. Those are dog running at large, no proof of vaccinations and no proof of animal registration.
Pray said he granted Andrews' request because she entered her plea without the guidance of an attorney.
He recommended Andrews seek counsel and told her if she couldn't afford an attorney, the court could appoint one.
"There is the possibility of a jail sentence in this case if you are convicted," Pray told Andrews.
Catalina Thompson, city prosecutor, requested that Andrews sign a waiver with the court confirming her desire to go forward without an attorney.
Andrews said she would consider hiring an attorney to represent her.
Pray ordered Andrews to apply for appointment of counsel by Dec. 31 if she wishes to seek a court-appointed attorney. If not, she will have to sign the waiver.
Andrews' former neighbor, Zachary Thomas, suffered bite wounds to his head, neck, shoulder blades and back when Andrews' dog - a pit bull terrier mix - ran outside.
The dog was apprehended at the scene and Lansing police issued citations to Andrews.
The Lansing city prosecutor filed a motion to have the dog destroyed, and Andrews said she voluntarily complied with the request Oct. 23.
In a previous interview, Andrews said she was evicted from the townhomes after the incident and now lives in Leavenworth. She said she had the dog euthanized because she believed the court would have ordered it anyway and she didn't want to be held liable if the dog bit any more people.
In a telephone interview with The Current, the victim's mother, Mary Thomas, said she would be satisfied if Andrews were ordered to pay fines and not face a jail sentence.
She said she had shared that opinion with Lansing Animal Control Officer Jim Magee, whom Pray had designated to make a sentencing recommendation to the court before Andrews withdrew her plea.
"Our biggest concern was that the dog be destroyed and that happened," said Mary Thomas.
Lansing does not outlaw pit bulls or mixed pit bull breeds, but the city has had a vicious dog ordinance on the books since 1986, and the ordinance specifically mentions pit bulls and mixed pit bull breeds.
Owners of vicious dogs are required to maintain an insurance policy of not less than $200,000 per incident against any claim, loss, damage or injury to any human, property, pet or livestock resulting from the dog's attack. Owners of vicious dogs must comply with leash, muzzle, signage and registration restrictions as well.