A houseful of guests waiting for a holiday meal may be most any homemaker's nightmare.
But not Marie Hoffpauer.
"I'm used to cooking for a crowd," the two-year Lansing resident said.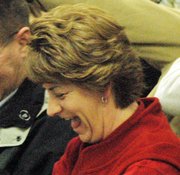 She grew up in a family of seven children.
In her household, each of the children had a specified task; Marie's was to cook and shop for the brood.
"I was always cooking for nine people. I enjoy it. To me, cooking is a stress-reliever."
By the time Hoffpauer was in junior high, she discovered she had a talent for decorating cakes.
During high school and college, she had her own cake-decorating business.
Her kitchen-loving avocation helped Hoffpauer gain some notoriety this past weekend when her pumpkin chocolate chip cookies took first place in the Lansing Lions Club's Christmas Cookie Contest.
"It's my signature cookie," Hoffpauer explained. "Pumpkin has lots of vitamin A, so that's my excuse for eating them."
Name: Marie Hoffpauer
Address: 204 Southfork Road
Occupation: Management analyst for U.S. Army Force Management Support Agency at Fort Leavenworth
Graduate of: Texas State University, San Marcos, Texas, with a degree in general home economics
Family: Husband, Mark; daughters Kristin and Katherine
How long have you lived in Lansing and what brought you here? "Two years; my husband had a job offer here."
What do you like most about Lansing? "The small-town atmosphere."
What do you do for fun? "Travel, bike and ski, plus I like to cook."
What would surprise people about you? "I've never lived in a house for more than 4 and a half years."
What's the best advice you ever received? "Do a good job whenever you can."
What organizations or clubs do you belong to? "I'm a lifetime Girl Scout; a member of the Episcopal Congregation on Fort Leavenworth at Memorial Chapel and treasurer of the parish council; lifetime member of the Texas Army National Guard; and a retired officer in the transportation corps of the Army Reserve."