Unit becomes first to deploy from fort since
WWII
About 100 members of
MP

battalion off to Iraq
Fort Leavenworth — Maj. Barbi Aleandre is not unlike dozens of soldiers from Fort Leavenworth who have deployed to Iraq.
But unlike other officers who have been deployed from the fort, the 14-year Army veteran will be going as a member of the Headquarters and Headquarters Company of the 705th Military Police Internment and Resettlement Battalion, the first unit to deploy from the northeast Kansas fort since World War II. Aleandre, who lives in Lansing with her husband, Maj. Rod Aleandre, and their children, downplays any historic relevance to the deployment.
"We have our mission to do," Aleandre said matter of factly during a reception that followed the unit's departure ceremony Friday at the fort.
Aleandre is one of the leaders of the unit, which is described as having experts in the field of military detentions. Its undisclosed mission will include oversight of detainee internment and resettlement in Iraq.
Aleandre is the operations and training officer for the 705th Battalion. She was a commander at the regional confinement center at Fort Sill, Okla., for 15 months before becoming deputy director of operations at the U.S. Disciplinary Barracks at Fort Leavenworth.
It's her training that keeps Aleandre confident the unit is ready for its mission.
"The unique thing about this is our organization trains on its wartime mission on a daily basis, so our soldiers are trained, ready and confident," she said.
Gen. Joe E. Ramirez, deputy commanding general of the Combined Arms Center for Training at the fort, reminded the departing soldiers, their families, friends and fellow soldiers at the ceremony of the importance of the unit's mission, which will be to oversee operations at an unnamed internment camp in Iraq.
"Talk about a strategic mission," Ramirez said. "If anybody here knows nothing about the mission, I want them to remember the words 'Abu Ghraib' and how that one event shaped what is now happening in that area of the world and how it reverberated across not just our country but across the entire Arab world."
The unit - about 100 soldiers, from privates with eight or nine months of military policing experience to officers like Aleandre with years - was handpicked and has been training intensely since August at the Disciplinary Barracks. Additional training has taken place at Fort Riley and Fort Leonard Wood, Mo., said Lt. Col. Patrick Williams, unit commander.
The mission is expected to last a year. Details of the unit's departure, which officials would describe only as taking place "soon," are being kept under wraps.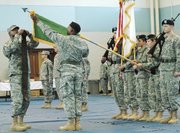 Williams, like Aleandre, said the unit was well prepared, and said his only worry was for the soldiers' families back home.
Col. Mark Inch, commandant at the Disciplinary Barracks, assured the soldiers, "We will take care of your families while you're gone."
For Aleandre, that means leaving behind her husband, Maj. Rod Aleandre, and four children ranging in age from 3 to 19.
"I think they're a little scared, but they know that we'll come back safe," Barbi Aleandre said.
She said she would miss her children but knew they would be in good hands. Rod Aleandre, stood nearby holding a bag and watching as their 8-year-old daughter Maya ran around the reception area.
"She's going to Iraq and I'm left holding the bag," he joked.