Room to grow
Weaknesses exposed in lopsided season-opening defeats at Bonner Tournament
Bonner Springs — Rod Briggs had a simple interpretation of what his Lansing High basketball team's 86-44 loss to Bishop Miege meant.
"We've got more room for improvement than they do right now," Briggs said matter of factly.
Photo Gallery
Miege trips LHS boys in opener
Miege lived up to its No. 3 state ranking in Class 5A and played with the poise that is expected of a team that returned four veteran starters. Meanwhile, Lansing looked every bit like a team that had five new starters and a first-year coach.
The Lions had hoped to work out a few kinks during Thursday's first-round game of the Bonner Springs Metro Prep Tipoff Classic. Instead, they saw their problems multiply against the Stags' full-court press and swarming defense.
"They do a good job of not allowing you to run your offense," Briggs said of the Stags. "They scramble so much, so when they do that you've got to have guys that can go make plays on their own. Right now we really can't do that all the time, and what we end up doing is traveling and throwing it away."
Lansing won the opening tip, but Miege immediately applied its full-court press and started forcing turnovers. The Lions coughed up the ball 10 times in the first quarter and the Stags turned them into 11 points.
Despite the numerous turnovers, LHS hung around for a while. The Lions pulled within 9-4 on back-to-back buckets by senior forward Jeff Jackson. Miege stretched its lead to 16-7 after the first quarter and eventually expanded its edge to 27-7, but Lansing wasn't ready to buckle.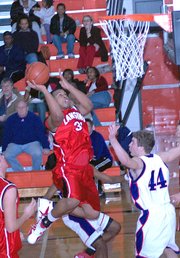 The Lions put together five straight possessions without a turnover during a two-minute span midway through the second quarter. During that time they outscored the Stags 10-2 on a layup by Stephen Didde and eight straight points by sophomore point guard Curtis Beall.
The offensive outburst was Lansing's best stretch of basketball all night and pulled it within 29-17 with 4:08 left in the half.
"A 10-2 run in the second quarter was good for us," Briggs said. "But then they probably went on a pretty big run after that."
Sure enough, Miege fired back with an 11-3 run to close the half. Senior Chris Combs scored all 11 points as he sank a pair of free throws and three straight three-pointers.
The Stags led 40-20 at halftime, but they weren't done. They displayed their depth as ten different players scored in the second half. The score was so lopsided that junior Travis Releford, the top-rated prep player in the Kansas City area, was just a side show as he scored 16 points and played barely three quarters. Meanwhile, Combs finished with a game-high 23 points. Josh Kearney added 12 points for the Stags.
The Stags hit 34 of 64 shots (53 percent). The Lions shot 40 percent from the field, but they took just 40 shots. Lansing finished with 34 turnovers to just 11 for Miege.
Beall was Lansing's high scorer with 13 points. Junior Kevin Johnson joined Beall in double-figures with 10 points. Jackson scored six points, Will Johnson and Cody Rush had four apiece, Didde and P.J. Sigle each had two and J.T. Collins, Clayton Hall and Elias Moya chipped in one apiece.
Although the lopsided loss certainly stung, Briggs said there was a benefit to it coming in a three-day tournament.
"We get to play tomorrow," Briggs said. "That's a real positive. And I think it highlighted a lot of our weaknesses that we can bring attention to the guys and say, 'Hey, maybe we need to do these things that we actually practice and improve at it.' That's something that really helps us is that every weakness we have was exposed tonight by a really good team."
Lansing (0-1) will try to bounce back at 3 p.m. today when it plays Shawnee Heights in the consolation semifinals.
Lawrence Free State 59, Lansing High girls 29
The Lansing High girls don't like the fact that they've started three straight seasons with lopsided losses in the first round of the Bonner Springs Metro Prep Tipoff Classic, but that's the way things have gone in the talent-heavy tournament.
Photo Gallery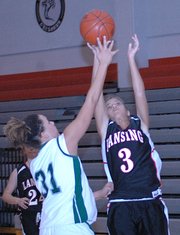 Free State routs LHS girls
Thursday was no exception as Lawrence Free State, the No. 4-ranked team in Class 6A, drilled LHS, 59-29.
Still, history shows that shaky starts haven't been a bad thing for the Lions. They've won 25 games the past two seasons, so the Lions know Thursday's loss means little more than that they have room to improve.
"When you look back at tournaments from the past years and then you see our record after it, it just provides a good outlook on what you have and what you bring out early, and then you can work from it," junior guard Katie Nietzke said.
With the season-opening loss out of the way, Lansing (0-1) will try to pick up its first win at 3 p.m. today against Savannah (Mo.). The Savages lost to the Topeka Seaman Vikings, 43-41.
Thursday's game marked the first time since the 2002-2003 season that LHS played without Amanda Radovich, Rachel Darrow and Nichole Twitchel in uniform. Those three accounted for 71 percent of Lansing's offense last year, but they graduated last spring. Their absence was noticeable during the first half as the Lions struggled to find a rhythm on offense.
Free State had a game under its belt after playing last week. The Firebirds looked calm and collected from the beginning. Meanwhile, during the first two quarters it seemed like the Lions were suffocating. They weren't patient and they forced shots and errant passes.
"We'd give up after the first few passes," Nietzke said, explaining the Lions' lack of offensive flow.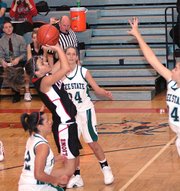 Lansing turned the ball over 13 times in the first quarter while Free State rolled to a 15-3 lead. The Lions' only bucket in the opening quarter came at the 5:50 mark when Nietzke banked in a three-pointer. A seven-minute scoring drought followed before freshman Amy Briggs put the Lions on the board again with another trey.
The Lions mustered a few more points before halftime as Nietzke nailed a 12-footer, Elizabeth Cristiano sank a turnaround jumper, Amanda Darrow scored on a backdoor lay-in and Morgan Chiles added a free throw. Still, there were too many turnovers and the Firebirds took a 37-13 lead into halftime.
"The first half I told some of the kids we had that deer-in-the-headlight look," LHS coach Keith Andrews said. "We were kind of dazed and confused and getting ready to get knocked out. I think that a game makes a difference, but all of those kids have played before and they know what's going on. They've just got to be a little more focused, and that will come."
The Lions played with more purpose in the second half although it didn't show in the form of points. After coughing up 19 turnovers in the first half, they gave the ball away just four times in the second half. Their shooting woes continued, however, and they were unable to chip away at the Firebirds' lead.
Lauren Kimball led Free State with a game-high 15 points, Taylor Manning had 12, Jenna Brantley scored 10 and Kelsey Harrison added eight. FSHS sank 24 of 57 shots and made eight of 10 free throws.
Brittney Lang was Lansing's high scorer with seven points. Cristiano scored six, Nietzke had five, Chiles and Briggs scored three apiece, Darrow and Christine Cordes had two and Kara Ritchey chipped in one.