Darrow's career day drives Lions to first win
LHS

boys hang tough but drop third straight
Bonner Springs — The similarities continue to be downright eerie for the Lansing High girls basketball team, and that could bode well for the future.
The Lions concluded the Bonner Springs Metro Prep Tipoff Classic with a 1-2 record for the third straight year. All three times they've had at least one lopsided loss, and every year their one victory has come against the Atchison Lady Red.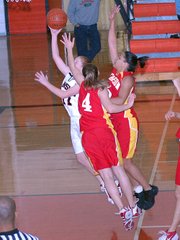 That was the case again Saturday in the seventh-place game as Lansing rolled to a 61-42 victory.
"I told their coach, 'We've got to quit meeting here. We've got to get somebody else going for seventh-place,'" LHS coach Keith Andrews said.
If history is any indication, beating Atchison could lead to bigger and better things for Lansing. The Lions have shaken off the slow starts to win 25 games the past two years, so if history repeats itself then Saturday's victory was a solid springboard.
Lansing did plenty right and kept mistakes to a minimum against Atchison. The Lions had just 16 turnovers and shot 53 percent from the field. Most of their points came in transition after grabbing rebounds or forcing turnovers.
Lansing sank its first four shots during a 9-0 blitz to begin the game. Atchison responded with an 11-4 rally, but LHS quickly regained control with an 8-0 run on layups by Morgan Chiles and Brittney Lang, a pair of free throws from Katie Nietzke and a fast-break layup by Amanda Darrow.
Darrow scored 10 second-quarter points and helped LHS lead by as many as 16 on two occasions before intermission.
"She's doing a good job of being in the right spot and she knows to get to the block and look," Andrews said of Darrow's offensive boost. "She's doing the right thing in the right spot."
Photo Gallery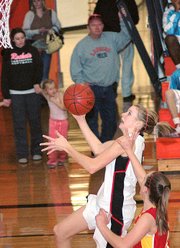 LHS girls blow out Atchison for first victory
Darrow opened the third quarter by splashing home an 18-footer. The lead continued to grow as Lang and Christine Cordes made layups, Nietzke drained a three-pointer, Darrow scored on a backdoor cut and Lang converted a pair of free throws. That outburst gave the Lions their largest lead of the game at 50-28 with 3:50 left in the third quarter. They played a bit sloppy the rest of the way, but the outcome never was in doubt.
After struggling offensively during the first two games of the season, Lansing sizzled in transition against Atchison. Lang and reserve point guard Amy Briggs led the fast break with long passes and on-target bounce passes to Darrow, Chiles and Cordes for easy lay-ins. The Lions also consistently used backside screens by forwards Elizabeth Cristiano and Kara Ritchey to feed the low post.
"The offense is getting a little bit smoother and we're starting to understand where we want to be," Andrews said. "We've still got a little ways to go, but we did a better job tonight of slowing it down spacing-wise. Last night we were cutting before we got the ball reversed. Tonight we were waiting on it and we got some open looks."
Darrow finished with a game- and career-high 18 points. Nietzke scored a season-high 14, Lang had eight and Chiles added seven. Briggs scored four, and Ritchey and Cristiano added two points apiece. Briggs, Darrow and Nietzke each had four assists and Lang and Cordes had three.
Lansing next plays at 6 p.m. Tuesday at Basehor-Linwood in the Kaw Valley League opener for both teams. The Lions won both matchups last year, but the Bobcats are one of the most improved teams in the league this season and are ranked No. 6 in Class 4A.
Darrow said the victory against Atchison was a plus entering Tuesday's league contest.
"It's nice to end this tournament on a win, and then everyone's pumped up and ready to go for league," she said. "It helps us out and keeps us on a good note."
Bonner Springs 59, Lansing High boys 45
The Lansing High boys' quest for victory No. 1 will continue for at least a few more days, but the Lions came closer Saturday afternoon against Bonner Springs during the seventh-place game of the Bonner Springs Metro Prep Tipoff Classic.
Lansing (0-3) dropped a 59-45 decision, but its third game in three days clearly was its best effort so far.
Photo Gallery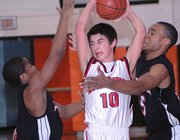 LHS boys fall to 0-3
"We had longer stretches of playing better," first-year coach Rod Briggs said. "That's ultimately what I feel like we've done. We played better in longer stretches."
One of those stretches encompassed the first five and a half minutes when the Lions darted to a 14-7 lead. Passes were crisp. Shots were on-target. The offense was fluid. The defense was solid.
Senior Jeff Jackson sank three 15-foot jumpers during the opening run, junior Stephen Didde converted a three-point play and sophomore Curtis Beall drained a trey. In fact, the Lions were so hot that the Braves called a timeout to regroup. The stoppage worked because the Lions went cold when action resumed.
Lansing went five minutes without a field goal as Bonner rattled off 10 unanswered points and took a 17-14 lead. The Lions trailed the rest of the way, but they hung tough for a long time. In fact, they were down 29-23 at the half and pulled within 40-37 after three quarters.
"When we were down 40-37, I felt like we were in good position," Briggs said. "We went one possession of zone and we blew an assignment, didn't get out to the corner and they hit a three on us. It seemed from there we went into an offensive drought and we stayed on 37 for about six minutes and we didn't rebound very well during that stretch.
"We really didn't execute well offensively during that stretch. We had too many unforced turnovers and that really hurt us."
Bonner opened the fourth quarter with a 14-0 run that spanned more than six minutes. LHS threw the ball away four times during that span. Sophomore Clayton Hall swished a pair of late three-pointers, but it wasn't enough to overcome the Braves' commanding lead.
Briggs said he was disappointed that the Lions made the same mistakes multiple times - such as being whistled for carrying the ball - and let those errors cost them a chance at winning.
"I knew it was going to be hard, but I expected to win today," he said. "I felt like we were a better team, and I felt like we just don't have the right mindset right now to go make plays when we need to. We're not learning as quickly from our mistakes as quickly as we need our guys to."
Jackson led the Lions with 10 points. Beall and Hall scored eight apiece, Didde had five and Kevin Johnson added four. Five players had two points.
Lansing next plays at 7:30 p.m. Tuesday at Basehor-Linwood in the Kaw Valley League opener for both teams.