CGSC

Foundation receives $100K gift
The founder of a time-management solutions company has pledged a $100,000 gift to the Command and General Staff College Foundation.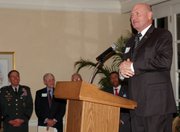 Hyrum Smith, founder of Franklin Quest and president of The Galileo Initiative, announced the pledge during a holiday reception. He said it was a means to demonstrate he is committed to the foundation's success.
"I want to let all my fellow trustees know how important I believe the CGSC Foundation's work is," Smith said in a speech to the foundation board of trustees and guests. "History has shown that a society that ceases to care about its own defense is one that ultimately ceases to exist at all. I believe that the foundation's purpose of supporting CGSC is key to our national security and this is my way of demonstrating that belief."
Smith said he would provide the gift in $20,000 increments over five years, beginning in March 2007.
"This is a significant commitment from a great individual and a great leader himself," said Bob Ulin, the foundation's chief executive officer and a former Lansing City Council member. "This gift will help the foundation support and raise public awareness about the Command and General Staff College's mission to educate our military leaders."
Programs supported by the foundation include awards for the students and faculty, support for symposia, conferences, lectures and community outreach activities.