Lessons from a globe-trotter
Flat Stanleys travel far and wide to teach
LIS

fourth-graders
He's a jolly world traveler who can be innumerable places at the same time.
Must be Santa Claus, you say?
No, this is Flat Stanley, the paper cutout that's helping fourth-grade teacher Barb Munsterman teach geography and culture at Lansing Intermediate School.
Photo Gallery
Flat Stanley travels the world
Lansing Intermediate School fourth-graders are getting lessons in geography and culture from their paper friends, known as Flat Stanleys.
Based on the character from the 1964 children's book "Flat Stanley," the cutouts made by Munsterman's students traverse the world just like Stanley Lambchop did in the book after being flattened by a falling bulletin board. When Stanley realizes he can easily fit inside envelopes, backpacks and suitcases, he decides to travel the world.
The pop-culture phenomenon made his way into Munsterman's classroom in 2001.
Munsterman's students created their own Flat Stanleys for the yearlong project this fall. Since then, the cutouts have been trotting all over the globe.
In the corner of the classroom, a bulletin board - much larger than the one that flattened Stanley like a pancake - displays proof that the LIS students' paper buddies have been there, done that.
Attending church in Baghdad, Iraq. Fly-fishing in Vermont. Apple-picking in New Hampshire. Flying to Frankfurt, Germany. Sightseeing in Milan, Italy.
And they've toured Massachusetts, Chile, Argentina, Utah and Tel Aviv, Israel. The list goes on.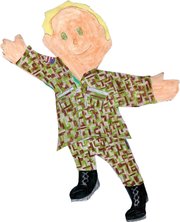 "Children love to get mail. Since we can't travel the world as a classroom, we ask parents and family and friends to do the traveling for us and report back with Flat Stanley with postcards, pictures, letters," Munsterman said, adding that the response to the project - by students and their family members - has been overwhelming year after year.
"This project is just one way to let the kids kind of be in charge of their own education," she said. "Because it's so student and family oriented and geared and driven, there's much more involvement, and I think the kids learn quite a bit more without realizing it."
The project also helps students stay connected with their loved ones.
Kevin Clifford's mom, Jan Clifford, regularly sends the students keepsakes from places she visits all over the world during her travels as a flight attendant.
Stuffed into an envelope, Kristen Tomrell's Flat Stanley flew nearly 7,000 miles to Baghdad to stay with her dad, Army Spc. Thomas Tomrell, during his service in Operation Iraqi Freedom. On his way back to northeast Kansas in November, Flat Stanley made stops in Hungary, Ireland, Newfoundland, Maine and Wisconsin. Altogether, he journeyed 13,887 miles and stopped in five countries.
Chase Zinser's Flat Stanley also toured Baghdad, where his dad, Maj. Mark Zinser, of Leavenworth, is stationed with the 130th Field Artillery Brigade, Kansas National Guard.
Wearing a bright orange shirt and a blue ski mask in the desert heat, Flat Stanley visited some of the palaces of former dictator Saddam Hussein's regime, tried on individual body armor and rested his head at Camp Slayer.
Mark Zinser sent Chase photos from their adventures in the Middle East with accompanying captions, including "Flat Stanley makes time for church," and "Flat Stanley is trying on his body armor to make sure it still fits him."
In an e-mail to The Current, Mark Zinser said he enjoyed the visit from Flat Stanley.
"I was sad to see Flat Stanley go, since having him here reminded me a lot of Chase," he wrote from Baghdad. "After a few weeks here in Iraq he was ready to go back to the USA. He is currently visiting family in Kansas."
But travels haven't been so seamless for all of the students' cutouts.
Zach Short said his Flat Stanley now has a twin.
"My first Flat Stanley got lost in the mail in Arizona," he said. "I had to make another one for the next trip."