Eudora, tougher slate 'real good' for
LHS
Eudora — There likely won't be any stars from MTV's Real World or Road Rules squaring off at any of the Lansing High wrestling team's tournaments this season, but the Lions and the reality television stars do have one thing in common: Both are involved with programs whose seasons can be called "The Gauntlet."
On MTV, that meant creating a new show that pitted stars of both programs against each other in various elimination challenges. For the Lions, the gauntlet is their weekly tournament schedule.
Photo Gallery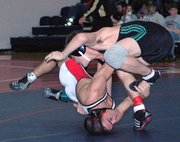 LHS wrestlers compete at Eudora Tournament of Champions
The LHS reality wrestling series began with an upbeat opener on Dec. 2 at the Kaw Valley League Dual Tournament. Episode two was flat-out explosive on Saturday at the Eudora Tournament of Champions. Lansing produced two individual champions and placed sixth out of 24 teams with 195.5 points. State powerhouse St. Thomas Aquinas rolled to the team title with 415 points, well ahead of runner-up Eudora (247.5) and third-place Baldwin (226).
"It was real good for our guys," LHS coach Ron Averill said of the deep pool of talented wrestlers his squad faced. "Going out to the first dual tournament and doing so well sometimes isn't a great motivator, so stepping up the competition a little bit more and stepping up our performance I think is going to be real good for us."
Junior Dennis Wood won all six of his matches at the tournament and won the 103-pound title. Senior Kyle Buehler, a defending state champion, went 7-0 and placed first at 140 pounds. Even the champs admitted the wrestling was tough.
"That first match (in the bracket) was a real wake-up call," Buehler said, referencing his 4-2 overtime victory over Skyler Scott of Aquinas. "I knew I was going to have to focus, just get down to business and do what I know I can do."
Buehler beat Colt Nickell of Prairie View in the semifinals, 6-3, and then fended off Free State's Marc Somers in the finals, 4-1. For Buehler, Saturday marked the first time he'd wrestled four state-ranked opponents in one day.
Three other LHS wrestlers advanced to the bracket rounds and brought home medals. Junior Nick Flynn placed third at 145 pounds, senior Casey Caton was third at 171 and sophomore Grant Hinckley was fourth at 160.
"It's been one of the best (tournaments) we'll have all year besides Basehor-Linwood," Flynn said. "Buehler's bracket, that was the state tournament right there. It was an absolutely amazing bracket. And in my bracket I saw hopefully my state finals guy in the first round today. It's been an excellent tournament all around. Every bracket was tough."
Other LHS wrestlers turned in solid outings but fell just short of advancing to the bracket rounds. Sophomore Wes Appleget went 2-2 at 135 pounds, senior Brad Zink was 3-2 at 152 and senior Taylor Teeters was 2-2 with two pins at 189 pounds.
Averill said his wrestlers had some weaknesses exposed at Eudora, but he said that was a good thing.
"What's an encouragement to me is about all of these kids at some time during the tournament came up to me and they were like, 'Hey coach, would it be possible for me to stay and get some help after practice?'" Averill said. "There's not a single one of these guys that didn't step out there and do their best and didn't have the best effort in mind, and there's not a single one that's not willing to step up and do more to try to get where they want to be. That's the cool thing."
Eudora was just the first of numerous stiff challenges on the slate this year. Lansing will make its first trip to the Emporia Winter Classic on Saturday. It also added the Bobcat Classic to the schedule on Jan. 12-13. In addition, the Lions still will go to Louisburg and Holton tournaments and then travel to the Baldwin Invitational for an annual meeting with national power Oak Park (Mo.).
"I'm glad we beefed up our schedule a little bit to get us ready along the way," Buehler said.