Janalin Renee Hittle and Victor Otis Hood were married Oct. 13, 2006, at St. Patrick's Catholic Church in Chanute. The Rev. Thomas Scaletty officiated. A dinner and dance reception followed at The Alibi in Chanute.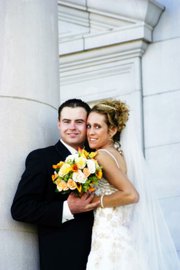 The bride is the daughter of Ray and Linda Hittle, Leavenworth, and granddaughter of Ernest and Blanche Higley, Cummings, and the late Phillip and late Mabel Hittle, Spring Hill. The groom is the son of Fred and Selene Hummer and the grandson of John and Elsie Galemore and Glenn and Lavaunna Hummer, all of Chanute.
Matron of honor was Mandy Stamper. Bridesmaids were Penny Galemore, Sandi Galemore, Susan Galemore, Julie Galemore and Darilyn Galemore.
Best man was John Galemore, grandfather of the groom. Groomsmen were Randy Galemore, Jeff Galemore, Chris Galemore, Matt Galemore and Nick Galemore.
Flower girl was Jaiden Galemore, and ring bearer was Heston Galemore, cousins of the groom.
Seating the guests were Austin Butcher, Caleb Galemore, Lukus Galemore and Brandon Marple. Candlelighters were Nicole Galemore and Lauren Galemore.
Vocal music was provided by Seth Galemore and Megan Pickett. Other wedding attendants were Rachel Galemore, Tessa Galemore, Madeline Galemore, Jake Galemore and Ty Galemore.
The bride received a bachelor of fine arts in interior design from the University of Kansas in 2002. She is a photographer and designer for her own firm, Janalin R. Hood Studio & Gallery. The groom attended Pittsburg State University. He and his grandfather, John Galemore, are partners in J.V. Oil Company, Chanute.