LHS

grad lands teaching scholarship
Lansing High School graduate Chad Hendrix is on a roll.
Since graduating from LHS in 2002, the Easton resident has been hitting the books at the University of Saint Mary.
This week, he will complete a bachelor's degree in chemistry with plans to graduate with a bachelor's degree in secondary education in May. And he expects to graduate with university honors.
But Hendrix won't stop there.
He plans to attend night classes at Saint Mary to attain a mathematics degree, and later he wants to pursue a master's degree in education administration or teaching.
Hendrix's ambition caught the eye of the Lansing Education Association scholarship selection team, which awarded Hendrix an $800 scholarship for the spring semester.
Hendrix accepted the award on Monday, Dec. 11, at LHS.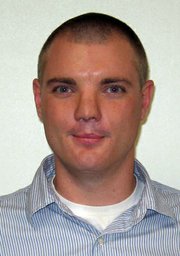 Lansing Elementary School teacher Cheryl Orlowski and LHS counselor Linda Tubbs were on hand to congratulate Hendrix.
"We are pleased with how much he has done with his life," Tubbs said.
LEA, the teacher's bargaining group, awards a scholarship every semester to an LHS graduate who is student teaching.
Orlowski, chairwoman of the LEA scholarship committee, said four applicants vied for the spring semester scholarship.
"All of them were excellent choices. It was a tough decision," she said.
Hendrix, 23, will student teach science classes at Pleasant Ridge High School in Easton.
Orlowski said she was pleasantly surprised to learn that her former student was pursuing a career in education.
"I had him in grade school, and I would have never thought that was an area he was interested in. He was all boy then," she said. "I never would have guessed that was a subject that he would have chosen, and I think it's a great profession."
Hendrix said he wants to remain in northeast Kansas and teach for at least a few years.
Hendrix already has spent time in the classroom at Saint Mary and as a student teacher and substitute at LHS.
"I know that there is a shortage of science teachers, so I decided to pursue that," he said. "My sister is a teacher and I got into the classroom and really enjoyed it. I like helping students understand chemistry."
Hendrix said he has enjoyed returning to LHS to teach, although it's taken some adjusting.
"It's a little different being on the other side," he said. "I've taught with a couple of teachers that I had when I was here.
"It's different being a younger person teaching : and you're not much older than the senior class. I've been asked a couple of times what grade I was in and where I transferred from."
Hendrix said student teaching at LHS also made him aware of the LEA scholarship, which he learned about from Tubbs.
LEA dues pay for the biannual scholarship.
Orlowski said LHS graduates who will student teach in fall 2007 may pick up applications for the next award at the LHS counseling office beginning March 1. Applications will be due April 1 and an announcement of the winner will be made by May 1.
Qualifying graduates also may contact Orlowski by phone at 727-1128 to obtain an application.