Santa recruits help at
LHS
Santa Claus has turned to elves in Lansing to help trim his workshop's long to-do list this holiday season.
Lansing High School students gathered Thursday, Dec. 7, to answer mail addressed to elves at the North Pole.
About 40 teens turned out to help lighten the load at Santa's workshop by responding to 160 letters from Lansing Elementary School second-graders.
The letters poured in with requests for dolls, horses, money and games, as well as good wishes for the tiny assistants.
"I hope you're helping Santa. I know the hard work you guys do. So I made something to cheer you up," wrote Autumn, an LES student who drew pictures for the elves on her letter.
But some of the notes wanted more answers than toys from Santa's aides.
"Dear Santa's elves," wrote Susan, "Do you sleep? If you do sleep what do you sleep on? Is it hay? Are you happy living in the North Pole? What do you eat? Is it hot cocoa or do you even eat at all? Why are you so tiny? Will you take a picture of Santa Claus please? Do you ever get presents?"
And another student, Elisabeth, had questions, too, such as, "How do the reindeer fly? Can I be an elf too? Do you have a dog?"
The LHS Leadership Council organizes the annual holiday letter swap.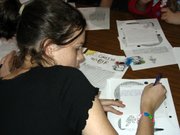 Juniors Sara Logan and Christine Cordes coordinated this year's project.
"I like reading the letters because I think they're cute. It gets us involved with other schools in the district, which is always good," said Logan, secretary of the junior class.
Kayettes members who helped with the annual project earned a point toward a letter.
But points weren't the only reason the teenagers penned the messages.
"This is so much fun. Kids say the darndest things. That's why they're so fun to read," said freshman Gwenna Davis.
And, LHS students said, the responses also were fun to write.
The teens autographed their notes to the second-graders with elflike names, including Snowflake, Sprinkle, Hopie, Meggo, Kitty and Star.
Some included tips on how the children could stay on Santa's good side and secure a job at the North Pole for themselves someday.
"To be an elf you have to be on the nice list forever. Santa loves children on the nice list," Star wrote.
A handful of the helpers remembered writing letters to the LHS elves nearly a decade ago.
"I remember doing this, but I just don't remember getting one back : so I wanted to write one," said freshman Sarah Nielsen, who signed one of her letters with the nickname Bubbles.
Most of the youngsters' letters conveyed good cheer and requests for gifts.
But last year when a child asked the elves to relieve an ill sibling's pain, the helpers witnessed a more serious side to holiday requests.
"It was really sad," said sophomore Meghan Summers, one of the helpers.