School celebrates homecomings
Two yellow ribbons come down at Lansing Elementary
There are two fewer yellow ribbons this week swaying in the breeze outside Lansing Elementary School.
LES played host to back-to-back celebrations on Friday, Dec. 8, and Monday, Dec. 11, marking the safe return of two Lansing servicemen from war zones.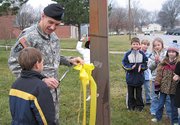 LES counselor Janie Hodam coordinated the festivities, which included presentations by LES students who hung the two yellow ribbons outside the school soon after their loved ones' departures.
Six yellow ribbons now remain, awaiting the safe return of more servicemen later.
"We have to celebrate that this hero has come home," Hodam said. "We've missed him. This is huge."
On Friday, Garrett Rooker's guardian, Army Maj. Navin Thakur, was welcomed by Trisha Croley's third-grade class.
Thakur returned Dec. 1 after serving nearly 13 months in Iraq, where he advised the Iraqi army. It was his fourth overseas deployment in five years.
Thakur is assigned to the Command and General Staff College at Fort Leavenworth.
As Thakur cut down the yellow ribbon, he was serenaded by Garrett's classmates, who sang "My Country 'Tis of Thee" in his honor.
And the group also showed its appreciation for Thakur's service in Operation Iraqi Freedom by presenting thank-you notes they had written.
When it looked as if the students were too shy to read the letters aloud, one student shouted, "Be brave like he is."
And suddenly, there was a full lineup of young volunteers addressing Thakur.
"Thank you for keeping our country safe."
"Merry Christmas and welcome home safely."
"That was very brave of you."
Thakur reciprocated with his own thanksgivings for LES students and staff.
"Thank you so much for all the time that you put into everything," he said, adding that he wanted to thank them on behalf of all servicemen and women.
Thakur said he told the children he met in Iraq about the educational opportunities students have in the United States.
"They don't have classrooms or teachers like this," he said. "They thought it was great that you guys have teachers in your classroom and you guys have your parents to drop you off at the school and pick you up, and you guys have stuff to do after school."
Garrett said he was most looking forward to catching up with Thakur by watching television and playing football, basketball and Xbox video games.
Thakur said he was grateful for the timing of his homecoming, as well.
"The holidays, and being around family and friends - it's good to be back," he said.
WINTRY WELCOME
Monday, cheers and claps welcomed Army Lt. Col. Doug Lilly to Carla Gutshall's second-grade class, where he was introduced by his son Tristan.
Tristan helped his father cut down the yellow ribbon he had hung in August on a pole outside LES, three months after Doug Lilly left for Afghanistan.
Doug Lilly, an instructor at CGSC, returned Nov. 27, just in time for a wintry storm that dotted the Lansing area with ice and caused school to be cancelled for two days.
He said he worked with military leaders in Afghanistan and Pakistan during his tour.
"It's nice to be back," Doug Lilly said. "This is wonderful. The kids are all so supportive - and the school. The whole community is very supportive, everywhere I've been since I've been back everybody says, 'Welcome home.'"
Tristan presented a balloon and candy bouquet to his father and also gave flowers to his mother, Darla Lilly, in appreciation for her patience while his dad was away.
"You had to maintain the home post," Gutshall told Darla Lilly.
"That was the hard part," Doug Lilly said. "I had to do what I always do. I just had to do it away from home for a while."
Doug Lilly answered questions from his son's classmates, who were eager to find out more about his Army career, which has spanned 21 years.
"Was it hard in the war?" asked one second-grader.
"Somedays, yes," Doug Lilly responded. "Some days were just like my normal job. My normal job is to do some stuff where I work with the government and the militaries. So some days were more difficult than others."
He said he was most looking forward to spending time with his family, which also includes son Tyler, a fifth-grader at Lansing Intermediate School.
Darla Lilly said she was thankful to have her husband home for the holidays.
"We're just happy to be a family again. The hardest part is being apart and not being a complete family," she said.