Four-star general honors graduates
CGSC

celebrates its first winter graduation
For Gen. Richard A. Cody, Vice Chief of Staff for the Army, the auditorium of young officers was the embodiment of the army's future leadership.
Cody, a four-star general and alumnus of the Command and General Staff College, spoke to the officers at their CGSC graduation, Dec. 15, and congratulated them on how far they had come. But they had far to go yet, Cody said -- for many, graduating from CGSC would be only a starting point.
"These majors are going to be the next leaders," Cody said at a press conference before the ceremony. "I mean, if you go down the hall here you'll see a picture of a young Dave Petraeus, and now he's the commander of this place. This school has produced and will continue to produce the next senior leaders of this army."
Photo Gallery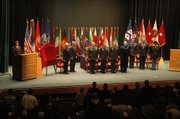 CGSC Winter Graduation
Scenes from Ft. Leavenworth's Command and General Staff College graduation ceremony on Dec. 15.
Cody said the achievements of the graduating class exemplified the excellence in training that was one of the fundamental strengths of the US armed forces. The graduates symbolize the Army's ongoing commitment to education.
"We're the finest army in the world because our stock in trade is leadership. Our stock in trade is adaptive, agile, educated leaders," Cody said. "I believe that's what's held this army together these last five years, is our investment in leader training."
Before his remarks, Cody said that he hoped the officers would remember the commitment they made nearly 12 years ago, and take pride in their perseverance and growth.
"They're mature officers, they're majors now. I expect them to be strong in character, army strong in commitment, army strong in moral courage," Cody said, adding, "I think they're standing pretty tall because of it."
For more on this story, see the Dec. 21 issue of The Current.