Free throws doom
LHS

boys to fifth straight loss
Lions make just two of 13 free throws in 54-46 loss to Tonganoxie
The Lansing High boys aren't the first basketball team to find out that free throws aren't the same thing as free points.
That point was never clearer than Friday night when the Lions threw away their shot at a victory by clanking on numerous free throw attempts during a 54-46 loss to the Tonganoxie Chieftains at Johnsmeyer Gymnasium.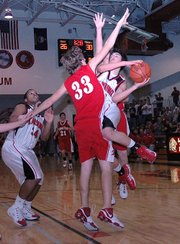 Lansing (0-5) hit 50 percent of its field goal attempts against Tonganoxie, but a dreadful two-for-13 performance at the charity stripe - including a zero-for-seven effort in the first half - meant LHS did as much to beat itself as Tongie did. Compounding the Lions' troubles was the fact that the Chieftains attempted 16 free throws and sank 14.
"Missed free throws and missed defensive assignments. That's why we lost the game right there," LHS coach Rod Briggs said. "If we make free throws and we do our defensive assignments, we're in good shape."
The Lions were in good shape during the first quarter when they sank six of nine field goal attempts and got four points apiece from Jeff Jackson and Kevin Johnson. They held a 12-11 lead after the first eight minutes, but already they'd missed two free throws.
Lansing missed five more charities in the second quarter and saw its narrow lead slip away in the process. Up to that point, the Lions' ineptitude at the line was their only glaring weakness. They took care of the ball and took good shots. It was the free throws, however, that made the difference in a 24-18 halftime deficit.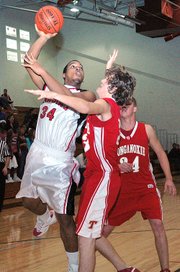 "We left so many points on the table in the first half," Briggs bemoaned. "I felt like we were winning the game, but I looked at the scoreboard and we were behind."
LHS displayed some toughness early in the third quarter when sophomore point guard Curtis Beall sparked a 6-2 run that brought the Lions within 26-24. Beall later cut the Chieftains' lead to 30-27 with a free throw with 1:27 remaining in the quarter. It was the Lions' first made free throw of the game after eight straight misses.
Although Lansing was within striking distance entering the fourth quarter for the third straight game, it had a series of defensive breakdowns that allowed Tonganoxie to extend its lead to double-digits. Chieftain senior Jeff Hughes opened the quarter with three straight baskets. Two of them were uncontested drives to the lane. THS made seven of eight field goals in the final quarter and hit all six of its free throws to ice the game.
"Coach wants us to be able to make more free throws than the opponent attempts, and we definitely didn't do that tonight," said Beall, who shared game-high scoring honors with Jackson with 15 points.
Johnson and Stephen Didde added six points apiece for Lansing. Chris Hill and J.T. Collins each added two. Hughes scored 15 points for Tonganoxie and Tyler Miles chipped in 13.
Lansing next plays at 7:30 p.m. Friday, Jan. 5, at Mill Valley.