Lions find shot late 44-42 loss to top-ranked Chieftains
Nietzke, Briggs spark late rally with long-range shooting
If Friday night was a glimpse of what's to come, then the Lansing High girls basketball team is going to be just fine.
No, the Lions aren't happy about their 1-4 record entering winter break, but they know if they can replicate Friday's performance during a 44-42 loss to the Tonganoxie Chieftains then they'll collect plenty of wins once games resume Jan. 5.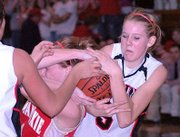 "Today we definitely came out as a team," said junior guard Katie Nietzke, who scored a game-high 16 points. "We talked about that before the game, like that was our main emphasis before we came out tonight, and we definitely did. And I think that is a main factor that we've learned. The practices the whole week have been very frustrating and we've been mad and sad and we don't know really what to do, but tonight we put it all together."
Tonganoxie, ranked No. 1 in Class 4A by the Topeka Capital-Journal and No. 2 by the Kansas Basketball Coaches Association, has spent the early part of the season manhandling its opponents. At the same time, Lansing was on the receiving end of lopsided losses in three of its first four games as it searched to find sources of offense.
It appears the Lions found the cure to their scoring woes while playing in front of the home crowd at Johnsmeyer Gymnasium. Three players scored nine or more points in a balanced offensive attack.
Lansing (1-4 overall, 0-2 Kaw Valley League) dictated the pace during the first quarter by slowing the tempo and displaying good ball control. The slow tempo kept Tonganoxie from getting into a rhythm offensively. The high-powered Chieftain offense managed only a 6-4 lead after the first six minutes. A short jumper by Rachel Bogard and a put-back by Tracie Hileman boosted their lead to 10-4 after the first period.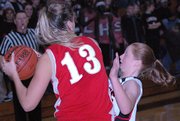 The Chieftains (4-0) extended their lead to nine points early in the second quarter, but a five-point burst from Nietzke kept the Lions close. A layup by sophomore Brittney Lang whittled the deficit to 17-11 with four minutes left in the quarter, but the Chieftains ended the half on an 8-2 run and took a 25-13 lead at intermission.
Both teams had eight turnovers in the first half. The difference was shot efficiency. Lansing made just six of 18 field goals while Tonganoxie scored on 12 of 26 attempts. LHS made one of seven three-point attempts in the half.
Tonganoxie forced a faster pace in the third quarter and its offense quickly found a rhythm. It used a 6-0 run to push its lead to 31-13 three minutes into the second half before LHS freshman Amy Briggs halted the run with a three-pointer. The Chieftains then scored back-to-back buckets on jumpers by Christy Weller and Ali Pistora. That gave them a 19-point lead with 3:05 left in the quarter.
At that point it looked like another blowout was in store. Not only were the Lions' shots not falling, but they also didn't attempt a single free throw during the first three quarters. Eleven of their 29 field goal attempts to that point were from beyond the arc.
Down by 19, Lansing began looking inside. Sophomore Alexis Ellis scored from close range and started LHS on its long climb back.
"When we're down by 18 or 20 we're a lot more patient," LHS coach Keith Andrews said. "We talked about not stalling, but being patient with the ball and looking for good shots."
Lansing missed its next two shots from close range, but the emphasis on attacking the basket did wonders for its outside game. The defense was forced to sag back and the Lions got open looks. Nietzke nailed a 17-footer with 48 seconds left in the third quarter and Briggs splashed home a three-pointer just before the buzzer. The 7-0 run brought the Lions within 35-23 entering the fourth quarter.
A Pistora put-back with 7:25 left in the game snapped Tonganoxie's four-minute scoring drought, but it was the Chieftains' lone field goal of the final quarter. Meanwhile, Lansing's newly found hot hand continued to sizzle. Amanda Darrow knocked down a 10-footer that cut the deficit back to 12 points. A free throw by Liz Baska bumped Tonganoxie's lead up to 38-25, but Nietzke and Lang responded by swishing back-to-back three-pointers. The 19 point lead was down to 38-31 with 2:52 left.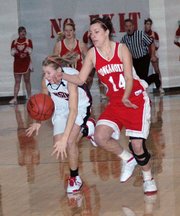 At that point the crowd was trickling in for the boys game that followed. The LHS student section was starting to fill up, and the students turned up the noise as the Lions rallied.
"That gets us pumped up," Lang said of the crowd's support. "Them cheering us on makes us want to play harder."
A free throw by Shannon Carlin gave THS an eight-point lead, but Briggs was fouled while shooting a three-pointer on the ensuing possession. The freshman calmly swished all three free throws and trimmed the deficit to five points. The teams traded free throws for the next minute and it seemed the Chieftains would hang on for the win.
Then Nietzke struck again.
After four games of misfiring, the sharp-shooting junior finally had found her shot. She continued to fire attempts, and her third trey of the game - with 15 seconds on the clock - made it 43-38. Pistora was fouled on the ensuing possession and sank one of two free throws. Then Nietzke fired again. Her fourth trifecta brought the Lions within 44-41 with five seconds remaining.
"Katie's done that for us before," Andrews said. "Last year she hit some big shots, but we're talking here with a big girl on you and taking a one dribble, one bounce hop and draining a couple. She's in the zone. That's the best thing for her, and hopefully that's just a foretelling thing to come."
Briggs stole the inbounds pass and missed a guarded shot from close range as the clock trickled down, but Lang grabbed the rebound and was fouled while putting up a shot. She went to the line with no time left on the clock. Although unable to win the game at the line, she sank one of two free throws and whittled Tonganoxie's final margin of victory to two points.
Lang finished with a career-high 10 points for LHS. Briggs added a career-high nine, Darrow scored three and Elizabeth Cristiano and Ellis added two apiece. Pistora led Tonganoxie with 12 points. Baska and Carlin each scored nine.
Lang had a team-high five rebounds while Darrow, Nietzke and Morgan Chiles grabbed four boards apiece. Nietzke and Lang each dished three assists and Briggs had two. Nietzke, Briggs and Christine Cordes each had two steals.
Although Nietzke scored the bulk of Lansing's points, she praised her teammates for stepping up both on the scoreboard and on the defensive end. She said the all-around team effort - she mentioned Briggs' offensive boost off the bench and freshman Abbey Lozenski stepping in to give up a foul for one of the starters as a few examples - was what helped the Lions improve so much during their biggest game so far.
"It's nice to know that we have girls on the bench that want to be in there as much as the starters or they want to put in the effort as much as we do," she said. "They want to be out there, and when they are out there they put as much effort or maybe even more than we do. That's such a great feeling to have and know that you have those girls behind you the whole time."
Lang said the Lions' strong finish gives them a lot of confidence entering a three-week winter break, but she said they still aren't satisfied with the loss after coming so close.
"Everybody came out with a lot of heart and they hustled and that's why we stuck in that game and we only lost by two," she said. "That's not good enough, but it's well enough to stick with Tongie."