Ribbons fall in flurry for holiday
The safe return of two Lansing servicemen prompted a celebration at Lansing Elementary School on Tuesday.
Students and staff marked the occasion by welcoming the men home with a yellow ribbon-cutting ceremony Tuesday, Dec. 19.
LES counselor Janie Hodam coordinated the event, which included presentations by third-grader Christian Fouquet and Lansing Intermediate School fourth-grader Ben Rogers. The two hung yellow ribbons outside LES when their fathers left in spring 2005.
Sgt. James Fouquet's ribbon came down first to mark his return from an 11-month peacekeeping mission in Kosovo, where he served with the Kansas Army National Guard's 24th Medevac Unit, based at Forbes Field in Topeka.
Christian and his classmates clapped as the scissors sliced through the ribbon, while Fouquet's wife, Renee, and son Conner, who turned 5 on Wednesday, stood nearby. Fouquet's son Calvin, an LIS fifth-grader, did not attend the ceremony.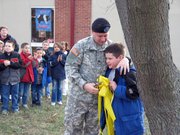 "Thanks, everybody, for helping Christian out and being his friend and being there for him when he needed it," Fouquet told the students in Janet Moorehead's class.
Fouquet, who trained for six months at Fort Hood, Texas, before leaving the United States for Kosovo on Dec. 21, 2005, said he was thankful for the support he had received since his return earlier this month.
"I get thanked more often than not," he said.
Fouqet said he was especially grateful to spend the holidays at home this year and wanted to thank all the neighbors and friends who supported his family while he was deployed.
"I'm just happy to be home," he said. "A lot of people think of us troops being gone, but they don't think of the families and the stress they deal with."
In Moorehead's classroom, Fouquet shared a rewarding experience he had while deployed. He told the third-graders about adopting a school in Kosovo that needed renovations.
"It was really neat to see the kids because all they wanted to do was learn about us and learn about our culture and hear about what you guys did," he said. "When we left, we put over $63,000 into their school. We got them running water, new playground equipment, heat, put new windows in and a new roof."
Christian said he couldn't wait for a break from school so he could spend more time with his father.
"I just feel good that my daddy's home," he said.
Army Maj. Dave Rogers celebrated his homecoming with son Ben, who now attends LIS, and his wife, Lisa.
Ben's former teacher, Trisha Croley, and her students also were there to watch the ribbon-cutting ceremony.
Rogers left Lansing in April 2005 for training at Fort Hood, where he's stationed with the 4th Infantry Division. He deployed to Baghdad, Iraq, on Nov. 6, 2005, with an attack helicopter battalion.
Rogers returned to the United States on Nov. 8 and has since been acclimating to a new time zone and family life.
"It's relaxing. It feels great to see the kids and all of our friends," he said.
Since his father's return, Ben said, the two have gone ice-skating and played basketball together.
Rogers also is catching up with daughter, Erin, a senior at Lansing High School, and son Luke, 23, a student at the University of Kansas.
Lisa Rogers said she appreciated the support of the Lansing community while her husband was gone.
"We chose to stay here instead of going to Fort Hood when he deployed, just because of the support," she said.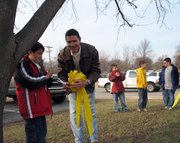 In Moorehead's classroom, the students showed that support for the servicemen with cards of thanks and a standing ovation.
Ben and Christian also presented their fathers with balloon and candy bouquets and gave flowers to their mothers in appreciation for their care while their fathers were deployed.
Dave Rogers told the students it was difficult to be away from his family for so long.
"For over a year, I flew over Baghdad almost every day," he said. "The thing that always got me was that there was always kids your age playing, no matter what was going on.
"There's a lot of kids like you over there and they play all the time, and that's the thing that got me and made me remember about here."
NETWORK OF SUPPORT
The celebration ended with a short tribute to Hodam by the families.
Lisa Rogers and Renee Fouquet said they appreciated Hodam's efforts to lend support to their children while their husbands were out of the country.
Hodam moderates a regular support group at LES for children whose parents are serving overseas. Several times a month, the children meet with Hodam and discuss various topics, including communication with their loved ones and how they can help at home.
"Mrs. Hodam was a lifesaver, I think, in a lot of ways for the kids," Renee Fouquet said. "It wasn't just counseling (Christian), it was the whole group helping each other, and they realized they're not alone."
Lisa Rogers said her older children stayed busy with activities during Dave Rogers' deployment, but Ben benefited tremendously from Hodam and the group's camaraderie.
"Her effort of pulling this wagon is pretty commendable," Dave Rogers said.