Deere will take volleyball talent to Neosho County
When Riann Deere showed up to the first day of volleyball practice this fall, the Lansing High senior figured it was the beginning of the end of her career in the sport.
Since first showing up at LHS coach Julie Slater's summer camp as a seven-year-old second-grader, Deere dreamed of playing for Slater's powerhouse program. She earned a varsity spot as a junior and would be an everyday starter this fall as a senior.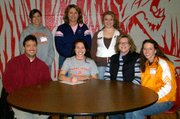 For Deere, this was how she'd envisioned going out on top of the volleyball world.
"I just thought I was going to go college," she said. "I thought I'd have a good senior year and end sports on a good note.
"My plan," she added, "was to go to KU."
Once the season began, however, a new idea was planted in her mind: Why not play college volleyball?
"I started playing the new libero position, and then I thought "Maybe if I have a future (as a college volleyball player), why not?" she said. "I had a lot of people telling me that if you have the opportunity then you should do it. It's a good opportunity."
That opportunity came in the form of Neosho County Community College. Deere held her official signing ceremony on Dec. 7 to play for the Panthers.
Neosho was an ideal fit for Deere for a number of reasons. For one thing, Neosho has a successful volleyball program. That's something Deere took into consideration after playing at tradition-rich Lansing.
"It's a privilege to have been a part of Lansing volleyball and to play under Julie Slater, who has one of the best records in the state," Deere said. "We are a hardcore program. We have fun, but we train hard, we practice hard and we know how to play volleyball. It prepared me so much for college."
In addition, her coaches have vast knowledge of her defensive-minded position. Neosho head coach Lindsay Sowder was a defensive specialist during her playing days and assistant coach Asya Herron is a former Neosho libero.
"That was just another plus," Deere said. "I'm going to learn a lot about the defensive specialist positions."
Deere was a spark plug for Lansing in a number of ways this season. First there were her stats. She dominated on the Lions' back row this season and notched a team-high 235 digs. That total was three shy of 2005 senior Dayna Norwood's libero school-record total of 238.
She also was the emotional leader. A ball of energy on the court, Deere has long been known for wearing her emotions on her sleeve whether it was a fist-pump or a jubilant shriek.
"Yeah, enthusiasm, I am known for that," Deere said with a laugh. "Some coaches like it. Some don't. But that's me. They saw me play, so they know what they're getting."
More than volleyball talent, Deere also will take an impressive academic resume to Neosho. She has been a mainstay on the honor roll at LHS and is a longtime member of Leadership council. Now she is the senior class president. She said she probably will enter the theater or arts program at Neosho. She wants to major in film and possibly be a movie producer or editor.
Deere said she is uncertain if she will move on to play at a four-year college after her two years at Neosho are over. The important thing, she said, is that she's able to walk away from the court with a smile on her face.
"I really want to play for two years and just see how that goes," she said. "A lot of people find that they play in college for four years and kind of get burned out. I still want to end up loving volleyball and end on a good note."