Holiday gift no pig in a poke
Fourth-graders purchase sheep, llama to help impoverished family
Lansing Intermediate School fourth-graders may have found the ultimate holiday gift that keeps on giving - sustainable agriculture.
On Friday, Dec. 15, Connie Evans' and Lisa Dewane's students voted to purchase a sheep and a llama, but they'll never have to worry about feeding or cleaning up after the livestock.
The animals will be donated to two families in need through Heifer International, a nonprofit organization with a mission of ending poverty and hunger by providing people with a never-ending source of food and income.
The fourth-graders donated $270 for the project during a two-week period.
During a combined class meeting Friday, they voted to buy a sheep for $120 and a llama for $150 among a selection that included a pig, a goat, bees, chicks, a trio of rabbits, and a flock of ducks and geese.
"Good job, guys, that will help some family out very much," Evans told the students at the end of the meeting.
According to Heifer International's Web site, heifer.org, recipients all over the world are required to share what they learn - as well as the livestock's offspring - with others in their communities.
Oftentimes, Evans explained, the animals are pregnant when the families receive their donation.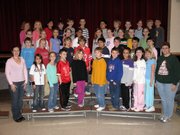 For fourth-grader Maisie Conrad, a holiday wish list that includes farm animals is nothing new.
Her mother, Sara Conrad, approached Evans with the idea this fall.
"We've been doing this for a few years," Sara Conrad said. "My sister and I were talking about it and we decided our children had too much stuff, so they started receiving a gift in the name of somebody else, so Maisie's had a donkey in the past in her name and a few other things."
Evans said she thought the project sounded unusual when Sara Conrad approached her.
"But once I saw the booklet she brought and we read the stories and how they've helped the underprivileged families, I thought it would really fit with our around-the-world unit, and it fit right in with the Christmas season and giving."
In addition to geography and culture, the unit also has taught the students about holiday traditions from around the world.
The goal for next year is that all LIS fourth-graders will participate in the agriculture project, Evans said.
Sara Conrad, who moved to the United States from England 19 years ago, said she commended the teachers for helping their students make connections with the rest of the world.
"I run across a lot of people who ask me where I'm from and they don't know where that is in the world, and I think it's really important you to know the world around you," Conrad said. "From the research I've read, children feel empowered if they feel that they're helping others, and I think that's a good thing."
Evans said some students had asked their parents to donate money to the project instead of buying a gift for them. Others completed extra chores and searched through washing machines and sofas at home for loose change, which totaled $42.
Many of the students displayed pragmatism during the class meeting.
"When you say bees, chicks and rabbits, how many are there?" one student asked Sara Conrad.
Fourth-grader David Szmed shared his opinion with his classmates before he cast his vote to buy a llama.
"What's the use of buying a pig?" he asked. "They're going to cook it and won't have anything left."
David said he thought a llama was better because "you can milk it for a long time."
He donated $5 he earned for doing chores - dog duty, garbage duty and kitchen duty - at home.
David said it felt good to help others.
"Since they're poor and they need help, if people would be more kinder and nicer, the world will be a better place," he said.
Another student, Winter Dawn, explained why she voted for a sheep.
"They shed their fur and you get clothes too," she said.