Lansing's Miss Kansas
USA

ends reign
Ashley Aull said friends started asking her about a month ago if she'd be sad to give up her title of Miss Kansas USA.
The Lansing resident's stock answer, she said, was no.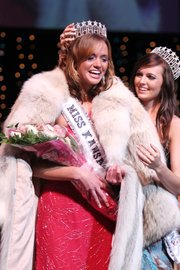 But Sunday, Dec. 17, when she crowned the new Miss Kansas USA in Lawrence, Aull changed her tune a bit.
"It was definitely bittersweet," Aull said.
After all, being Miss Kansas USA has its benefits.
"I got to do so many things I'd have never thought I'd be able to do," she said.
For example, there were the three weeks she spent away from home, traveling to the East Coast for the Miss USA pageant in Baltimore. During those three weeks, she and the other Miss USA contestants took a side trip to New York to visit the Trump Towers and make appearances on a plethora of television shows, including "Live with Regis and Kelly," "TRL," "Today" and "The Early Show."
"I'd never even been to New York, let alone been on those television shows," Aull said.
The year also included less glamorous, though memorable, appearances.
"My first appearance as Miss Kansas USA was at a Sunflower House Christmas party at the Applebee's headquarters" in Lenexa. There, she met a group of children from the abuse-prevention center that serves Johnson and Wyandotte counties. "Last Tuesday, I was there again for my last appearance, so it was kind of fitting."
Aull said she made several appearances at grade schools, where she would read to youngsters and talk about herself. The day after one such appearance with a group of second-graders, she was in the state director's office when the phone rang.
"Two of the girls were calling to thank me for coming to their school, tell me how pretty I was and how much my visit meant to them," Aull recalled. "It was neat that I had made such an impact on them. It opened my eyes to what I could do."
Aull, the daughter of Melanie and Alex Aull and a 2004 graduate of Lansing High School, also paid tribute to residents in her hometown.
"Everywhere I went, people were saying 'congratulations' all the time. They supported me in everything," she said.
Though hindsight is 20-20, Aull said she wouldn't change anything about her reign, including her performance at the Miss USA pageant, where she failed to make the cut to 15 semifinalists.
"It has made me what I am today," she said. "Sure, once you go through it you realize : had I known this or had I known that : but I think everything happens for a reason. I wouldn't change a thing."
As for her advice to the new Miss Kansas USA, Cara Gorges of Clearwater, Aull said:
"Just be yourself. There will be all kinds of people who will try to change you, but stick with your ways and you'll be fine."