National Champion
2003 Lansing High graduate helps
MANU

capture crown
Barring a last-minute change of plans, Zac Breedlove might go down in MidAmerica Nazarene University history as the school's biggest one-hit wonder ever.
But Breedlove is no wannabe pop star. Instead, the 2003 Lansing High graduate is a soccer standout who recently helped the Pioneers win the National Christian College Athletic Association national championship.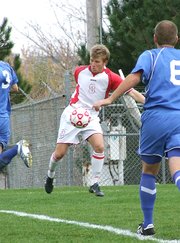 A MANU junior, Breedlove is a first-year player with the Pioneers. He spent two seasons at Johnson County Community College and then took a year off from soccer before enrolling at MidAmerica. With a title in tow, he's considering hanging up his cleats.
"This is probably going to be my last year playing soccer, so it was a really cool way to go out on top," he said. "It's just a great feeling."
Breedlove grew up in Lansing, but his family moved to San Antonio in 1998 when his father, Mitch, was transferred by AT&T. The family lived there for two years before moving back to Lansing.
Upon returning, Breedlove rejoined his buddies on the LHS soccer team as a sophomore. He came back just in time for Lansing to begin a three-year reign as one of the top teams in the area. Breedlove was a junior on the 2001 LHS squad that placed third at the Class 4A state tournament. He said it was the success of that group under coach Randy Brown that helped him blossom as a player.
"It was a combination of (Brown) and the team camaraderie over the three years," Breedlove said. "That was a huge part of my development as a player and of me wanting to go to practice every day and get better. My experience there really helped me prepare for college."
Breedlove spent two years on the soccer team at JCCC. He scored two goals and had two assists during each season as a Cavalier, but he never grew comfortable playing right midfield.
Breedlove took the 2005 season off from playing soccer and did some soul-searching while he finished his degree at JCCC.
"I was searching around and I didn't know if I wanted to play (soccer)," he said. "MidAmerica just kind of popped up. I was at a point in my life where I was going through some spiritual changes and was changing my life for the better. I knew coach (Kevin) Wardlaw at MidAmerica was a great coach and I saw that was a place where I could grow both as a player and spiritually at the same time. It just seemed like a great atmosphere to be a student and a player."
Wardlaw wanted to use Breedlove as a forward at MANU. The position switch enabled him to make an immediate impact on the Pioneers. They started the season 0-4, but Breedlove scored two goals in a skid-snapping 5-1 victory over Tabor College. The next day he buried the game-winner against Judson College, the No. 13-ranked team in the NAIA.
Breedlove got better as the season went on. He finished the year with 11 goals and three assists, but two of his goals came during the NCCAA Tournament. He scored the game-winner during a 3-0 quarterfinal victory over Asbury College and then sealed the title game by scoring a late goal in MidAmerica's 2-0 victory over Cedarville University.
"It was amazing," Breedlove said of scoring in the title game. "It was really nail-biting. We were up 1-0 and our opponent was biting at our heels the whole time with scoring opportunities, so to be able to put that goal away in that situation was a sigh of relief for all of the fans, the players and myself. To be able to go out like that and make a significant impact in my last game was really special to me as a player."
Breedlove puts an asterisk by the phrase "last game." He's pretty certain he is finished playing. He loves the game, but he's actually a fourth-year college student and is trying to finish his degree in sports management. He also wants to start graduate school, possibly at the University of Kansas for a master's degree in exercise science.
If he is done, he said his teammates are what he will miss the most.
"I'm just going to miss the closeness with the guys on the team and the relationships you build with the game of soccer," he said. "That's a huge part that I'm going to miss, especially with the guys here because I really got along with these guys. It's been really special."