Students cheer 'copter's visit
Kansas Army National Guard Black Hawk lands to open space camp
From the bleachers, the roar of the Black Hawk helicopter was barely audible over the foot stomps and cheers.
Lansing Intermediate School students didn't hold back their enthusiasm as the chopper landed on the Lansing High School football field Thursday, Dec. 14.
But they paused just long enough for the pilot to address them from the field.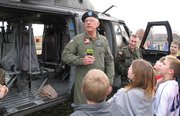 "Is this a good way to kick off your space camp?" asked Ron Jackson.
And they erupted again in jubilation.
Jackson and crew members from the Kansas Army National Guard 24th Medevac Unit treated LIS fifth-graders to a tour of the chopper, complete with small-scale demonstrations of the helicopter's main rotor system and a question-and-answer session.
Jackson's wife, Pam Jackson, a fifth-grade teacher at LIS, invited the crew to the school in hopes of creating enthusiasm about the fifth-grade's space camp activities on Friday, Dec. 16.
Sgt. Douglas Bailey, the crew chief, said the mission had been accomplished.
"I could hear them screaming over the engine," he said.
The event was extra special for fifth-grader Victoria Thompson, who celebrated her 10th birthday Thursday.
"I was jumping up and down when I saw him. It was really awesome," she said.
When it was their turn, the fifth-graders canvassed every inch of the helicopter's interior. They tried out all the seats in the chopper, including the pilots'.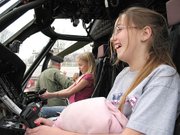 They had questions too.
"How do you balance the helicopter?" asked one boy.
Ron Jackson explained that it takes about a year to master the skill.
"It's kind of like balancing a broomstick in your hand," he said. "Have you ever done that?"
Ron Jackson, who has flown helicopters since 1977, said he hoped the visit would spark the students' interest in aviation.
"We want them to know the National Guard is here and we're part of the community," he said. "Hopefully we'll generate some interest in flying and our mission, which is supporting the troops."
Fifth-grade teacher Cheryl Rader said although the Black Hawk helicopter isn't technically a spacecraft, the exercise aligned with the space camp's purpose.
"The whole space camp objective is to get the kids excited about science and the space program," she said. "The helicopter shows kids that if they are really interested in it, there are other occupations available to them that are related to the field (of aviation)."
On Friday, LIS fifth-graders immersed themselves in space-related activities that were set up in 20 stations manned by LIS staff, parents and students from Lansing Middle School and LHS.
Most of the stations included hands-on activities to make space camp seem as realistic as possible.
In room 104, LMS seventh-grader Jo Solberg showed students how a comet works using a model she made with dry ice, water, brown sugar and dirt.
"Don't try it at home," she said to the fifth-graders as smoke rolled off the pan. "I tried to pick up a piece of dry ice and it started burning."
At the disorientation station, parent Judy Ellis spun students around in a circle and then covered their eyes while the youngsters pushed buttons on a simulated control while trying to avoid the dreaded "self-destruction" function.
Fifth-grader Brandon Tedoni showed off his coordination skills at another station, where he threaded a needle in two seconds - while wearing a pair of gloves.
"It was easy," he said, adding that working in space would be more difficult. "I would like to work in space because you could visit planets and feel weightless."
The daylong event also featured activities in reading, art and writing.
Pam Jackson said fifth-grade teachers designed the stations to challenge students' skills in a variety of subjects while demonstrating the difficulties of space life.
At the relaxation station, students enjoyed a moment of free time where they could reflect on the experience and nosh healthy snacks.
"This is the best part - relaxing," said fifth-grader Jasmine Hill. "But I don't think the astronauts really get to relax like this."