Big in '06: Buehler is Lansing's fourth champ
Wichita — With about 25 seconds remaining in the Class 5A 135-pound state championship match, Kyle Buehler faced his moment of truth.
Buehler, a Lansing High junior wrestler, had won 40 of his 41 matches leading up to the state finals. He'd been through tough situations before. He'd won big and he'd rallied from deficits. He knew pressure, but this was bigger. Much bigger.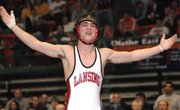 A state championship was on the line, and Buehler's shoulders were barely an inch from touching the mat for a near-fall that would've wiped out Buehler's 3-2 lead and handed the state title to St. Thomas Aquinas' Mark Millstead.
Back arched and leg twisted like a pretzel, Buehler held his ground. For 25 grueling seconds he kept his shoulder from touching the mat.
"I could hear the ref say, 'No, not yet. No, not yet. He's not over,'" Buehler recalled. "I knew I could keep that position. I was just praying, like, 'You can dislocate my shoulder. You can rip my arm off. Just don't go.' I was thinking about the whole season and I wasn't going to let it end that way."
Buehler never gave in, and as a result, he became the fourth state champion in Lansing wrestling history Saturday, Feb. 25, at the Kansas Coliseum.
"A lot of times it comes down to desire and attitude," LHS coach Ron Averill said. "We knew he had the attitude and the desire. Unfortunately he got a chance to show it there in those last few seconds, but it really played out. You've got to give Kyle a lot of credit for holding those points off because there's not many guys who would have been able to hold that off the way he did."
For Buehler, the championship was the crown jewel in what was a dominating season in all respects. He finished the season with a 41-1 record. The only blemish was a close loss to Missouri state champion Zack Bailey, the top-ranked prep wrestler in the nation at 135 pounds.
"It really has been a great season," Buehler said. "It's gone by so fast."
The season may have flown by, but Buehler said his final match felt like it went in slow motion. He was careful in the championship match to make sure he didn't give Millstead any openings. As a result, the match went scoreless through the first two periods. Buehler took a 1-0 lead with 1 minute, 22 seconds left in the third period on an escape. He then stretched his lead to 3-0 with a takedown, but Millstead answered back with a reversal that seemed to switch the momentum.
Millstead remained on the attack throughout the final seconds, but Buehler refused to give in.
Buehler credited his strength in the final seconds to his teammates for pushing him in practice.
"We've got state finals every practice wrestling against (Kyle) Grape and Sean (Flynn)," Buehler said, referring to his other two teammates who advanced to the state finals this year.