Big in '06: Freshmen set pace for cross country revival
Lawrence — The Lansing High cross country team didn't bring home any medals from the Class 5A state meet on Saturday, Oct. 28, but 38th-year coach Errol Logue still had plenty of reason to celebrate.
Of the four runners LHS sent to Rim Rock Farm for state, three were freshmen. First-year runners Lauren Jaqua, Abbey Lozenski and Brandon Craig all qualified for state. So did senior Lori Flippo.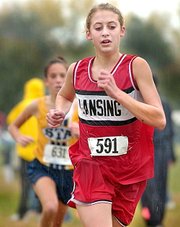 It's the freshmen that excite Logue the most. His boys program was one of the most dominant in the state in the late 1980s and early 1990s. Since then the LHS boys and girls both have had a handful of talented runners, but neither team has been a major state contender.
Logue senses a rebirth with this group. Jaqua already has the school record in the four-kilometer run. Lozenski wasn't far behind, and she was a medalist in numerous meets throughout the season.
"They'll be the girls you build around," Logue said. "They'll be the leaders next year. They've already said they want to go down to the middle school and get some kids (to run with them)."
Craig owns the best five-kilometer time of any freshman Logue ever has coached, and Logue said Craig has yet to discover just how good he can be.
In addition to the talented freshmen, Logue and assistant coach Melanie King finally have depth to work with. The boys have a tight-knit group of sophomores and juniors that are loaded with experience. Meanwhile, the girls were loaded with first-time runners that gained experience throughout the year. Logue believes both the boys and girls will receive an additional boost next year from a talented crop of eighth-graders that will be funneling into the program.