Big in '06: Slow start doesn't stop football playoff streak
The Lansing High football team dropped three straight games to open the season.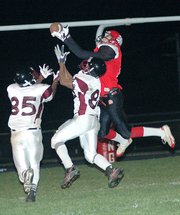 It ended the year on a loss too.
During those games in between, however, LHS was flat-out dynamite at times. It was that mid- and late-season hot streak where Lansing played its best football of the season. The result was a third straight appearance in the state playoffs.
The accomplishment also was Lansing's first in Class 5A after advancing to the 4A playoffs in 2004 and 2005.
LHS opened the season with a lopsided loss to Tonganoxie and then gave away home games to Perry-Lecompton and Santa Fe Trail by failing to score on numerous trips to the red zone.
Back-to-back victories gave Lansing new life, and the Lions carried that momentum into district play. They won two of three district games and earned a spot in the playoffs.
Lansing lost its first-round game to Turner, 36-12, on Friday, Nov. 3. The defeat ended the Lions' season. Although their 4-6 record was disappointing, they found reason to celebrate their strong finish.
"This season was a rollercoaster," senior quarterback J.T. Collins said. "It was incredible the ups and down we had, but the last three games the offense came together and the whole team came together."