Delinger inks with Coffeyville
As most of her fellow seniors head back to class at Lansing High in January, Jessie Delinger will begin the next step of her academic and athletic careers.
She departs Jan. 7 for Coffeyville Community College, where she will begin college a semester early. She plans to study elementary education, but she also will play volleyball. She signed her letter-of-intent on Dec. 8 to play for the Red Ravens.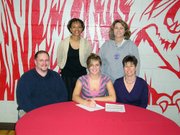 Delinger said she was excited for the opportunity to play college volleyball. She said the relationship with Coffeyville literally happened over night.
"They have questionnaires on the Internet," she said. "I filled one out, and two hours later the coach called me. It was like 9 p.m., and she was so excited. She said she'd been looking for a player like me and wanted me to check out the campus."
On her visit, Delinger stayed with players in the dorms, worked out with the team and watched the Ravens play. She said she felt right at home.
"The town reminded me of Lansing," she said. "It's small. It's quiet. There's still stuff there, but it's not like Kansas City, Wichita or Lawrence. It's not a big city, so I just felt comfortable."
She was so comfortable, in fact, that she changed her plans. Initially she wanted to live at home and take classes at Kansas City Kansas Community College this spring. The experience on her visit convinced her to scrap those plans and head to Coffeyville right away.
Her early semester will be covered by her scholarship because two CCC players graduated at the end of the fall semester and freed up some extra money.
Delinger said it was a tough decision to leave town while most of her friends are still in school at LHS, but she said it was the right decision for her as a student and as an athlete. She will get comfortable with the class load on her new campus. Also, she will have extra time to bond with her new teammates.
"That's my main reason for going down there," she said of getting to know her teammates. "I'm getting a really good chance to bond with those girls and build up my skills, and I want to take advantage of it.
"When August comes around I'm going to know the girls a whole lot better than the other newcomers, and in a way I'm going to be on top of my game a little more than those other girls. That excited me because I've always pushed and strived to be the person to get things done. I want to make sure I'm there for my team, that I have my stuff right and that it betters my team. If I can do that this coming spring, then I'm definitely going to do that."
Coffeyville posted a 20-19 record last year but finished third in its district. Delinger said she likely will play outside hitter for the Red Ravens. It's the same position she played at LHS.
Delinger said she is looking forward to finding out exactly what college volleyball is like. Regardless of how it goes, there is one particular opponent she can't wait to play: Neosho County Community College. That's where longtime Lansing classmate Riann Deere will be playing in the fall. Both girls' schools are in the same conference.
"I think it's hilarious that we've played together for so many years and now we're going to the same district and we're going to play against each other," Delinger said. "It's definitely going to feel good to know somebody in the same boat as me, who's going through the same things that I am, and seeing her is going to give me a real sense of home. Every time we play I'm going to have those happy memories. I'll remember the Tongie game when we killed them, and all of those games together. It's going to be great."