Filing opens election season
The first candidate filing for this coming spring's Lansing City Council and School Board elections is in the books.
Andi Pawlowski, who represents Ward 2 on the City Council, last week submitted the paperwork and paid the $10 filing fee for re-election to a second term.
Pawlowski, who was first appointed to the council in 2002 then won a four-year term in 2003, said there were several reasons she was seeking re-election but the biggest was to continue the momentum toward building Lansing Community Park.
"There's a huge need for our own park," said Pawlowski, who was a member of the citizens board that asked the city to build the park on 128 city-owned acres near 155th Street and Gilman Road.
The first phase of work on the park, including grading, putting in temporary roads and seeding soccer fields, is among the council's top three priorities for spending receipts from the city's share of Leavenworth County sales tax funds.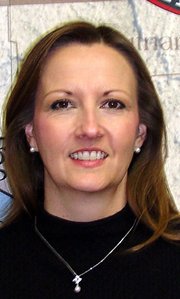 Pawlowski said she wanted to make sure the work didn't end there.
"I'm hoping that will spur public interest in the park, and we'll have a bond election for a swimming pool at the same time as the 2008 presidential election - at least that's my hope," she said.
Pawlowski said she wanted the pool bond election to coincide with the presidential election because, historically, presidential elections draw the highest percentage of registered voters to the polls.
"I think it needs to be a communitywide decision, with as many members of the community voting as we can have," she said, adding, "I don't want to ram this down anyone's throat; it's a lot of money and I want the people to decide."
She said she was proud of the work the council has done during her tenure.
"Of course I'm prejudiced, but I think we have a pretty good atmosphere among us and we're getting things done," she said, noting for instance the start of the Main Street System Enhancement project and completion of the Lansing Wastewater Management Facility
Pawlowski, 49, is an agent with Coldwell Banker Reilly and Sons real estate. She is a member of the Lansing Intermediate School Site Council, Lansing Educational Achievement Program advisory board, Leavenworth Region of Kansas City Regional Association of Realtors board, a co-leader of a Girl Scout Troop and a member of PEO.
She is married to Tom Pawlowski and is the mother of three children, sons Cliff, 22, and Chris, 20, and daughter Cassie, 10.
More like this story