Lansing fifth-grader cheers with Chiefs program
Junior cheerleader at home in front of sellout Arrowhead crowds
With a child enrolled at each of the four Lansing schools, Chris and Carla Hill stay busy attending educational and athletic events.
This fall, the couple added Kansas City Chiefs games to their list of must-see activities when their daughter, Jasmine, cheered and danced in the Junior Chiefs Cheerleaders program.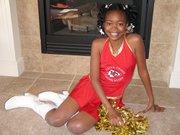 A fifth-grader at Lansing Intermediate School, Jasmine performed in front of 80,000 screaming fans at Arrowhead Stadium, home of the Chiefs, when the St. Louis Rams, San Francisco 49ers and Oakland Raiders came to town.
Jasmine said she grew nervous waiting in the stadium tunnel before her first performance in August.
"It did feel like a lot of people," she said. "I felt really shaky because I saw all those people, and I thought they were going to stare at me. But when I got out there and actually started dancing, I kind of let it go because I wasn't the only one out there."
Performing alongside Jasmine were more than 100 other girls, most between the ages of 8 and 12. And Jasmine's mentor and "Big Sis" Laura, a Chiefs cheerleader, also was there for support.
"At the end of the year, I got a card from her. It says how proud she was that I worked hard and didn't give up. That was cool," Jasmine said.
The sixth-month program, which concluded with a variety show Dec. 2, was Jasmine's first foray into performances with pompons. And, she said, it won't be her last.
"I thought it was going to be easier," she said. "But I had fun working at it and actually accomplishing it."
Jasmine traveled to Arrowhead in Kansas City, Mo., for group practices twice a month during the summer and four times a month in the fall. But, she said, that wasn't enough practice, so she learned most of her routines at home with a DVD.
"Sometimes now we sit at the Lansing games and by the time we come home we just about know all of their cheers because she has to learn them so fast," Carla Hill said, referring to sporting events involving their three sons: Chris, a junior at Lansing High School; Jonathan, a seventh-grader at Lansing Middle School; and Dominic, a third-grader at Lansing Elementary School.
When she wasn't concentrating on the routines at practice, Jasmine said she mingled with other girls and met with Chiefs cheerleaders, who mentored the girls and taught them character, etiquette and teamwork lessons.
"I learned how to be a better person. I learned you have to work at things. You can't just think somebody else is going to do it for you, because nobody danced for me," she said.
With a closer vantage point than most fans, Jasmine also learned that her favorite Chief, wide receiver Dante Hall, is 5 feet 8 inches tall - much shorter than she imagined.
And, there were other perks, including a sparkling uniform, stylish go-go boots and an opportunity to wear makeup.
Jasmine said she would like to continue cheering and dancing, and she hopes to participate in the program again next summer, which will require a tryout if enough girls sign up.
"I'm going to have to work at it because I've seen girls that can really dance," she said. "I'm just gonna have to practice and see if I make it."