Lansing was Big in '06
LHS

earned its keep in

KVL

, state in 2006
Paris Hilton didn't drive through Lansing this year.
Neither did former Vice President Al Gore and his traveling slide show displaying environmental disasters.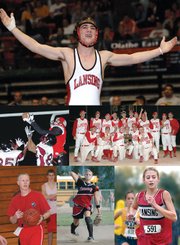 Justin Timberlake didn't sing here, and Britney Spears made sure to keep the paparazzi far away from northeast Kansas.
Comedian Dane Cook didn't crack jokes at Lansing Activity Center, and neither did D.L. Hughley.
No, Lansing didn't resemble the VH-1 Big in '06 Awards in many ways, but that didn't keep the city from looming large on the sports scene.
Lansing didn't need pop starlets, comics, teen idols or hip-hop wannabes to win a share of the spotlight this year. K-Fed it was not. Instead, Lansing was plenty big in 2006 on its own merits as it won a Kaw Valley League championship and had three league runner-up finishes. It sent athletes to state at a blistering pace and even had one bring home a coveted state championship.
The LHS softball team won the league crown and earned its second state tournament berth in three years.
The wrestling, golf, boys soccer and girls basketball teams all placed second in the KVL, and the girls basketball team fell one victory shy of a trip to state.
The LHS baseball team advanced to state for the first time since 1995 and the football team made its third straight postseason appearance.
The cross country team experienced a youth revival as three freshmen qualified for the state meet.
The boys basketball team also had a new beginning when it hired coach Rod Briggs, a former coach at Liberal with state tournament experience.
Then there was Kyle Buehler, the city's biggest winner of the year. The long-time wrestling standout battled to a 135-pound state championship as a junior in late February and became the program's second state champ in two years.
Two other LHS wrestlers - Sean Flynn and 2005 state champion Kyle Grape - both notched second-place finishes this year. Anchored by the three wrestlers in the state finals, the Lions nabbed a fifth-place finish in the team standings.
Yes, 2006 was a big year for Lansing sports across the board. It was one of the most successful years in Lansing High history, and it was a year worth celebrating.
In recognition of the year that was, here's a look back at Lansing's biggest sports stories of 2006.