Main Street work rated as top story of '06
May 20 began innocently enough for a midspring Saturday. An early-morning rain shower caused some worries that Lansing High School's graduation exercises would be forced indoors. By the 10 a.m. start, however, the skies cleared and "Pomp and Circumstance" filled the air around Frank Graham Field.
A few blocks to the north and west, however, crews with Leavenworth Excavating and Equipment Co. were beginning a job that would touch most every person in Lansing. They were moving orange cones into place to block the western two lanes of the Seven-Mile Creek Bridge. The crews were starting the Main Street System Enhancement project, a two-year effort to improve traffic safety on the city's main north-south thoroughfare.
The $15 million project eventually will widen Main Street from Connie to Ida streets to include a center turn lane, rebuild the bridge over Seven-Mile Creek and reconstruct medians from Gilman Road to Ida Street. Already finished is a "reverse frontage road" north of West Mary Street to West Kansas Avenue.
In a year where a killer escaped from Lansing Correctional Facility, the school district broke ground for a new elementary school, new construction and new businesses sprung up like daisies and the vice president of the United States visited the area, it's hard to imagine a story that was bigger in Lansing in 2006 than the Main Street project.
Mayor Kenneth Bernard, who helped secure funding for the project back in the 1990s, said he knew residents would face some hardships during the Main Street reconstruction. He wasn't wrong. Throughout the spring and summer, much of Main Street was reduced to one lane of northbound and one lane of southbound traffic. Bumper-to-bumper traffic was the norm in the early mornings, noon, midafternoons and early evenings.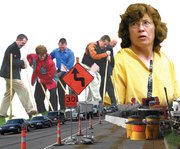 But at a ceremonial groundbreaking for the project in June, Bernard promised the finished project would be worth the headaches.
"It's going to add a lot to this community, it's going to open up a lot of economic development," Bernard said.
By Thanksgiving, crews had pretty much finished on Main Street for the winter. But workers will return in full force in the spring, for the second - and final, city officials hope - year of work before the upgrade is completed.
Here's a look at some of the other top stories in Lansing in 2006:
PRISON ESCAPE
In August 2004, Toby Young started a program at Lansing Correctional Facility that received dogs from shelters across northeast Kansas and matched them with inmates who fed, groomed and socialized the dogs to improve their chances of being placed in a new home. Safe Harbor Prison Dogs, by all accounts, was a successful program and one of the prison's most visible. Young even made appearances on radio talk shows with the prison's warden.
But on Feb. 12, Young's standing at the prison changed.
It was then when she smuggled convicted killer John Manard, the program's star trainer, out of the prison and the two headed for the hills of rural Tennessee.
The search captivated the region.
The two remained fugitives for 12 days, until U.S. Marshals saw them outside a bookstore in Chattanooga, Tenn., then chased them until a truck driven by Manard crashed in McMinn County, Tenn.
The two were returned to Kansas, where Young, now 49, pleaded guilty to aiding and abetting aggravated escape and introducing contraband into the prison.
Young was sentenced to 21 months in prison on the state charges and is being held in a federal detention center awaiting trial on federal weapons charges related to the escape, said Bill Miskell of the Kansas Department of Corrections.
Manard, 28, meanwhile, is back at Lansing Correctional Facility and faces a Jan. 10 hearing related to the escape in Leavenworth County District Court.
BREAKING GROUND
It took 17 months after winning voter approval, but Lansing school district officials finally broke ground on a new elementary school and high school auditorium in September.
"This is a wonderful day for the Lansing community, and it's an even better day for the kids in Lansing," School Board president Shelly Gowdy told a crowd of about 40 people gathered at the site of the new auditorium.
The ceremony commemorated the start of construction on the $23.6 million bond projects approved by voters in April 2005.
Rain showers moved the groundbreaking from the elementary school site on West Mary Street to the high school.
NEW BUSINESSES
Several new businesses opened shop in Lansing in 2006, and many of them located in newly constructed buildings that popped up in town.
Among the new businesses: Popeyes Chicken & Biscuits, Leavenworth Online, Wachovia Securities, Lansing Liquor and Wine, Goin' Postal mailing service and CitiFinancial.
As the new shops opened, construction continues on several projects, including MidAmerican Bank and First National Bank at the south and north ends of Towne Center, Lansing Depot Shops at First Street and East Kansas Avenue, and Carriage Hills Plaza on Main Street.
VIP VISIT
Up the street from Lansing, at Fort Leavenworth, Vice President Dick Cheney paid a visit back in January.
Cheney, the highest-ranking American official to come to the post in its nearly 180-year history, paid a 40-minute visit to the fort's Harney Gymnasium.
He delivered a 25-minute speech in which he called for renewal of the Patriot Act, praised the assembled soldiers for their efforts and sacrifices and told the audience of about 1,400 people that the United States would win the war on terror.
Here is a list of other newsworthy events from 2006
¢ Lansing Educational Foundation Fund raises more than $25,000 for school projects with its inaugural Blue Jean Ball.
¢ Lansing State Rep. Kenny Wilk loses his quest to become speaker of the Kansas House of Representatives.
¢ Lansing School Board and City Council appoints new members to fill seats that are vacated midway through their terms.
¢ Second District Congressman Jim Ryun, seeking his fifth term, wins a majority of the vote in Lansing but is defeated by Democrat Nancy Boyda.
¢ Police determine a 7-year-old Raytown, Mo., boy visiting Lansing has been murdered; on the day charges are filed, the suspect - the boy's 44-year-old grandmother - commits suicide.
¢ A group of Lansing High School students and teachers travels to China for a two-week trip.
¢ Longtime Lansing City Clerk Karen Logan leaves her post to become Leavenworth city clerk.
¢ Wallula Christian School, which had served youngsters in kindergarten through fifth grade, decides to pare its offerings for preschoolers only.
¢ A dog attack sends a 4-year-old to the hospital.
¢ A head-on collision on U.S. Highway 73 south of the city leaves two people dead.
¢ Leavenworth County voters use electronic machines for the first time.
¢ The City Council decides against enacting an ordinance that would ban smoking in public places, including restaurants and bars.
¢ Fort Leavenworth's Command and General Staff College marks its 125 anniversary.
¢ Hundreds attend the city's inaugural Autumn in the Grove festival.
¢ Lansing residential property values rise 12.9 percent.
¢ Leavenworth County is in the running for the National Bio and Agro-Defense Facility.