Students celebrate return of Guantanamo Bay guard
While schoolchildren were ushering in the holidays with winter parties inside their classrooms, festivities also were taking place on the lawn outside Lansing Elementary School.
Students observed Army Staff Sgt. Chad Pappas' return to Lansing by cheering him on Thursday, Dec. 21, as he cut down a yellow ribbon hung in his honor by his stepson, Dylan Lash, now a fourth-grader at Lansing Intermediate School.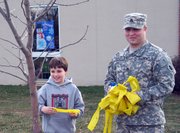 Pappas returned to the United States on Dec. 9 after a year of conducting detention operations with the 525th Military Police Battalion in Guantanamo Bay, Cuba.
LES counselor Janie Hodam coordinated the event, which also was attended by Nancy Collard's first-grade class, including Pappas' nephew, Daniel Johnson.
"This ribbon's been here for a long time," Hodam told the youngsters. "It's been waiting for this man to come here and cut it down."
And on the count of three, Dylan Lash and Pappas removed the symbolic decoration, bringing to an end a long wait that began when Pappas deployed Dec. 9, 2005 - exactly one year before his return.
"We're glad you're home," the students yelled to Pappas.
Pappas echoed that sentiment after the ceremony.
"It feels great to be back and spending time, especially at the holidays, since I missed them last year with the family," he said, adding that he valued the support of the school and community. "It means a lot to myself, and I can pretty much speak for everyone else when I say it's much appreciated."
Since his return from his only deployment overseas, Pappas said, he's made the most of his time by catching up with his family, which also includes his wife, Nicole; son Chad "Zander", 2?; and stepdaughter Rebecca Lash, 6.
"I've been at home spending time with the family. That's where I've been. I really haven't gone out and done anything," he said.
Pappas, who works at the U.S. Disciplinary Barracks at Fort Leavenworth, said he could not discuss details about the detention center in Guantanamo Bay.
"It's just tough down there," he said. "I can tell you that I was working at the detention facility and that I came home safe."
During his time in Cuba, Pappas also trained soldiers.
He said he felt fortunate he was able to stay in contact with his family on a daily basis during his deployment.
"It was difficult, but I've got a really great wife and she's really supportive," he said.
Nicole Pappas said it was challenging at times, but the family persevered.
"The kids were really good. They helped out a lot," she said.
The ceremony also was a reminder that the family eagerly awaits another yellow-ribbon cutting celebration.
Nicole Pappas' brother, Spec. Daniel Johnson, will deploy to Afghanistan in January with the Missouri National Guard. Daniel Johnson, the first-grader, will return to the lawn next month to hang a yellow ribbon for his father. The Pappases will care for the younger Daniel Johnson while his father is away.
"We're going to be there to cut down the next one," Nicole Pappas said.