5th-graders show inventive ways
Lansing Intermediate School fifth-graders are preparing to follow in the footsteps of Thomas Edison and Benjamin Franklin; one may, perhaps, become the next Alexander Graham Bell or Levi Strauss.
The students showed their creativity and ingenuity through projects for the Invention Convention, on display Wednesday and today, Feb. 1 and 2, during parent-teacher conferences in the school gym.
Photo Gallery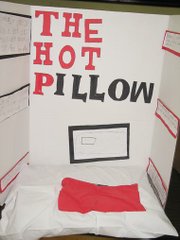 Invention Convention
Lansing Intermediate School fifth-graders took part in an Invention Convention this week. Their creations were on display Wednesday and Thursday at the LIS gym.
Pam Jackson, fifth-grade science teacher, said the students had been getting into inventor mode since the beginning of the semester - they've worked on problems to help them "think outside the box" such as making inventions out of a potato or from bags of miscellaneous household items.
To come up with an idea for an invention, Jackson said the project included a survey. Generally, she said, students talk to family members to find a problem that needs a solution. She encourages her students to write down a problem whenever they think of one because it could lead to an idea for an invention.
"Anything, no matter how silly it seems," she said.
Apparently, doing chores is a problem for many students - in the past, Jackson said, she's seen a lot of bed-making and cleaning inventions. Others relate to students' interests, such as a tube running from a basketball net to the free-throw line to return the ball and a horse-scratching brush.
Katie Curatola got her idea from a tree at her house. There's an apple tree in front of her home, she said, but she can't reach the highest branches to collect the apples. So Katie invented the Handheld Johnny Appleseed, an extendable pole that has two screws in a "V" shape to pull the apple off the tree and a 2-liter bucket to catch it.
"It worked really well," Katie said earlier this week. After testing her invention, she said she had a few improvements to make, such as widening the screwholes to help the pole to extend more easily.
Students presented their inventions to their classmates on Wednesday before setting up the gym display. Jackson said students seem to enjoy checking out all the projects.
"They get so excited about everyone else's inventions," she said.
Inventions will remain in the LIS gym today but must be removed by noon.