Council raises no objections to redrawn map of wards
Boundaries for the city's four wards are changing, but the redistricting won't require any Lansing City Council members to forfeit their existing seats.
Mayor Kenneth Bernard presented his proposal for the redistricting during the council's work session on Thursday, Jan. 26.
The redistricting is required, in part, because of the city's annexation of 1,200 acres on its southern edge in November 2004.
As drawn by Bernard, population in each of the wards would be within 400 of the others. Ward 4, with 2,048 people, would be the biggest; Ward 2, with 1,601 people, would be the smallest.
"But that's where all the growth is, new additions and the annexation area," Bernard said.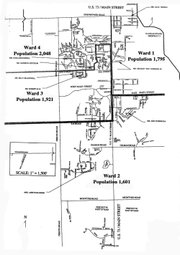 Though the four wards weren't equal in population, "that's about as close as I can figure out. Now, if somebody's got a better idea than that : ," he said.
State law calls for wards to be as equal in population as population following geographic boundaries. Bernard's proposal follows mostly straight east-west and north-south streets.
"What I think, eventually, is that each ward will move further south" as the city's population growth moves that way, Bernard said.
The boundary changes will not become official until after the council votes on them. The vote is tentatively scheduled for the Feb. 16 council meeting.
In other action, the council:
¢ Gave Public Works director John Young the go-ahead to begin negotiations for engineering services for the extension of Gamble Road, which will handle traffic from the back of the Carriage Hill Plaza shopping center to Ida Street behind Lansing Lumber.
¢ Decided to gather more facts, including cost estimates, before deciding on a request for alley improvements behind the appraisal office of David Chartier, 220 N. Main St. Chartier is losing his front access to Main Street with the Main Street System Enhancement project and is asking the city for improvements to the alley. Council members will revisit the issue at their Feb. 16 meeting.