Strouhal makes statement
Freshman wrestler steals show as
LHS

caps 16-0 dual season
Tonganoxie — Just about everything went according to plan for the Lansing High wrestling team Thursday night at its triple-dual against Mill Valley, Bonner Springs and Tonganoxie.
LHS completed its dual season with a perfect 16-0 record as it rolled to a 74-6 victory against Mill Valley, a 76-6 decision against Bonner Springs and a 65-12 victory against Tongie.
The one surprise, however, came from freshman Tyler Strouhal. A first-year wrestler, Strouhal has had a handful of varsity matches this year. He most recently placed first on Saturday at the Pleasant Ridge Invitational junior varsity tournament.
"Last weekend felt great because it was the first tournament I won," Strouhal said.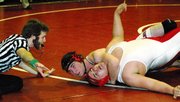 Thursday he was slated to wrestle JV, but when LHS had an opening at 275 pounds in its first varsity dual of the night against Mill Valley, he asked Lansing coach Ron Averill to let him compete. The last-minute change of plans paid off as Strouhal collected a first-perod pin in just 1 minute, 47 seconds against Tyler Hancock. Against Bonner Springs, Strouhal collected another varsity victory, this time by forfeit.
"With him just being a freshman, we're really wanting to get him all the experience that we can because he's going to be coming in for the next three years," Averill said.
Strouhal didn't end his day unblemished, however, but that hardly mattered to his coaches. Strouhal squared off against Tonganoxie senior Jeff Frank in the final match of the night, and it was arguably the evening's most intense contest.
"Everyone was telling me he was really good," Strouhal said of Frank. "I figured I just had to work harder."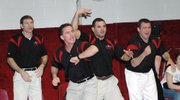 Frank, the third-place medalist last week at the Baldwin Invitational, raced to a 6-1 lead before a reversal by Strouhal late in the first period made it 6-3. The second period was mostly uneventful until Frank recorded a two-point takedown with 30 seconds left to stretch his lead to 8-3.
Then, Strouhal came alive. Down by five points in the third period, Frank appeared to be on cruise control, but suddenly Strouhal turned the tables. He recorded a takedown. Then he received three points for a near fall that tied the match at 8-8 with 1:13 left. Frank inched out of bounds and narrowly escaped being pinned, but the LHS assistant coaches were leaping in the air and the crowd was roaring.
"It was real loud," Strouhal said. "I kept looking back at the coaches to see if they'd tell me what to do. They kept telling me to pull him in, but he just weight so much that I couldn't pull him in.
"I had him down over there, but (he got away)."
When the match resumed, the two tossed a few more times, but it was Frank who took the upper hand and collected the pin with 49 seconds left in the period.
"Everybody was real excited about watching him tonight," Averill said of Strouhal after the match. "It was probably the most spirited match of the night for the teams and the fans. It was a no-lose situation for everybody."
Despite the loss, Strouhal said he learned plenty from wrestling the talented Tonganoxie senior. He said the match would make him a better wrestler in the long run. In fact, it's matches like the one with Frank that have made Strouhal start viewing wrestling as something more than football conditioning. He said he's serious about staying with it long-term.
"I'm starting to like it more, so I'm going to stick with it throughout high school," he said.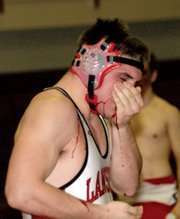 Although Strouhal stole the show, he wasn't the only Lansing wrestler to turn in a strong showing. Sophomore Dennis Wood won all three of his matches by pin at 103 pounds. Seniors Lance Fink (160 pounds), Dennis Kessler (171) and Ryan Civils (189) also won all three of their matches by pin. Two of Civils' pins came in just seven and 10 seconds.
Other three-match winners were sophomore Nick Flynn (130), junior Kyle Buehler (135), senior Sean Flynn (140), junior Kyle Grape (145), junior Casey Caton (152) and senior Logan Ryan (215). Junior Scott Keller (112) and sophomore Chance Thackston (119) each went 2-1, and freshman Wes Appleget (125) was 1-2.
The Lions are off this weekend. They will return to action Feb. 11 at the Kaw Valley League championship at Perry-Lecompton High School.