Lions fall to Jags at buzzer
Warner nets season-high 21 points in 42-40 loss to No. 6 Mill Valley
Few people expected the Lansing High boys basketball team to keep its game against No. 6 Mill Valley close, let alone have it come down to a buzzer-beater.
But that's exactly what happened Friday night at Johnsmeyer Gymnasium where Lansing dropped a 42-40 decision when Mill Valley senior Kyle DeBerg scored on a layup as the buzzer sounded.
"It's devastating to lose it the way it went down," LHS coach Don Allen said. "But the bottom line is you remember what they've done to us the last few ball games. They've manhandled us. I'm real proud of the fact that, No. 1, we got ourselves back into it in the first half and, No. 2, we stuck to the game plan in the second half and gave ourselves a chance to win the basketball game."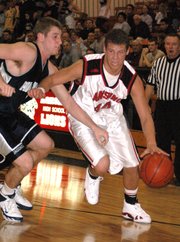 Mill Valley beat Lansing, 60-44, on Dec. 16 at Mill Valley. It was a game where LHS fell behind 25-12 and never recovered.
The fact that this game even went down to the wire was surprising given the way Mill Valley started the game. The Jaguars (13-1 overall, 8-0 Kaw Valley League) raced to a 19-9 lead in the first seven minutes thanks to eight points by DeBerg and three-pointers from Ryan Gracy and Alex Meddaugh. The Lions kept pace, however, thanks to nine first-quarter points by senior Matt Warner.
Warner's hot hand seemed to inspire his teammates. Jeff Slater scored on a put-back and Chris Wagner knocked down a pullup jumper that pulled LHS within five early in the second quarter. Another jumper by Slater, followed by a three-pointer from Warner, tied the game at 23-23 with 3:07 left in the first half. Mill Valley closed the half on a 5-0 run and took a 28-23 lead into the break.
Just when it looked like the Jaguars were regaining control, Warner brought the Lions right back. He sank another three-pointer and then sank a floater that made it a three-point game midway through the third quarter. Suddenly it was clear the Lions didn't plan to fold.
Mill Valley led 36-32 entering the fourth quarter, but the lead didn't last long. Slater scored on a three-point play to cut the deficit to one. Two minutes later Slater found David kern open underneath for a layin that gave LHS a 37-36 lead with 4 minutes, 52 seconds left to play. The Jaguars regained the lead when Michael Mahan scored on a put-back, but Warner answered immediately with a leaner in the lane that gave the Lions a 39-38 lead.
Nobody scored during the next three minutes as Lansing played a stifling zone defense. It failed to capitalize at the other end, however, because of three straight turnovers. LHS didn't attempt a single shot during that stretch, meaning it never had the chance to extend its lead.
The dry spell came back to bite the Lions. Jaguar senior Jack Johnson came off a screen and knocked down a 17-footer - his only field goal of the game - with 1:31 left. Thirty seconds later, Slater sank one of two free throws to tie the game, 40-40. That set up Mill Valley's final possession.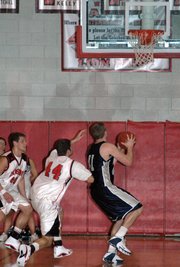 Johnson brought the ball to the top of the key, swung it to the left side and then got it back. He drove right, looked for a shot and suddenly winged a pass to a cutting DeBerg under the basket. DeBerg's right-handed layup danced on the rim for a full second before dropping through the net as the buzzer sounded.
Game over.
Allen said he made a coaching mistake in having Kern jump a screen that freed DeBerg for the open layin at the buzzer, but Allen said he had been concerned with Johnson getting an open look.
"He's a good basketball player, and he's been guarded by some pretty good defenders, so he knows how to look and find other options," Allen said of Johnson's pass at the end. "I wanted David to jump (the screen), and it created just enough space and he hits it right at the red light."
Lansing (6-8, 4-4) had its three-game winning streak snapped with the loss, but Warner said this loss wouldn't derail the progress they've made during the last two weeks.
"It's obvious we've gotten better," Warner said. "We've just got to keep building on it."
As devastating as it may have been to lose on a last-second shot, Allen said he was proud of the way his players performed. He was particularly pleased with the defensive effort of Wagner and senior Cody Mohan guarding Johnson. Normally one of the league's most lethal shooters, Johnson was held to just four points on 1-for-8 shooting and a pair of free throws.
"If you hold Jack Johnson to four points, you're a defensive superstar," Allen said of Wagner and Mohan's effort. "That's just unbelievable, being able to hold him to two points."
De Berg led Mill Valley with 16 points. Warner led Lansing with a game-high 21 points on nine-for-16 shooting. Slater scored 13 points, Kern had four and Wagner added two.
Lansing will try to get back on the winning track at 7:30 p.m. Tuesday when it travels to Immaculata for another Kaw Valley League contest. Warner said it wouldn't be hard to get fired up for the game.
"It's Immac. That's all there is to it," he said. "It's a rival. Tongie and Immac are the rivals, and they're both next week, so it's rival week."