Queen of the court
Darrow leads
LHS

past Mill Valley with 16-point, nine-rebound effort
Lansing High girls basketball coach Keith Andrews was concerned prior to Friday's game against Mill Valley that senior Rachel Darrow might be distracted with the Winter Royalty festivities.
After all, Darrow was one of three nominees for queen, an honor that ultimately went to Kim Cavaleri.
It turned out Andrews had no need to worry. Darrow showed that her heart was in her high-top sneakers rather than high heels, as was her focus. Her team-high 16 points, nine rebounds and four steals provided additional evidence that basketball was her top priority.
It was a good thing Darrow's mind was on basketball, because Lansing needed every last ounce of her effort to pull out a 58-53 victory at Johnsmeyer Gymnasium.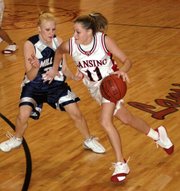 "The key to today was focusing on the game before ever thinking about what would go on afterward," Darrow said. "Coach was worried that I wouldn't be focused, so I tried to come out with a performance where I could prove to him that it wasn't (a distraction). I wanted to prove to him that I could do both. I could be a princess and I could play."
Andrews said he was proud of Darrow for juggling both the basketball game and the royalty court with such grace.
"With her having all of that going on and all of the emotion, she played a good ball game and a smart ball game and was solid for us the whole way," he said. "Kudos to her because she was solid that way. She was our queen tonight."
LHS (10-4, 7-1 Kaw Valley League) looked like it might be in trouble early when Mill Valley freshman Carly Santularia sank all three of her three-point tries in the first quarter. Adding to Lansing's troubles was the fact that senior forward Amanda Radovich - the No. 10 scorer in the state - picked up two early fouls and was forced to the bench. Fortunately for LHS, Darrow pumped in six early points and got three more from junior Elizabeth Cristiano to stay within 16-15 after the first quarter.
Darrow opened the second quarter with a layup that put the Lions on top, but the Jaguars answered and gradually extended their lead throughout the second quarter as seven different players scored. Santularia's fourth trey of the game gave them a 32-24 lead with 2:13 left in the half, but the Lions closed on a 6-2 run and trailed just 34-30 at halftime.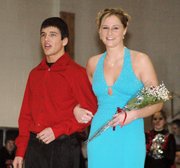 Although the four-point deficit at intermission wasn't bad, it could have been if not for Darrow's strong performance during the first 16 minutes. Her 12 first-half points amounted to 40 percent of Lansing's total offense at that point. Realistically, she was the sole reason the Lions were in the game.
"She pulled us together," sophomore point guard Katie Nietzke said. "If we wouldn't have had her, we probably would have fallen apart."
After Darrow got Lansing through the first half, her teammates picked up the slack. Nietzke - who netted a career-high 17 points against Mill Valley on Dec. 16 - caught fire in the third quarter. She knocked down three three-pointers in the quarter and scored 11 points. Her first trey tied the game at 34-34. Her second pulled Lansing within 40-39. Her third - a half-court shot that banked in at the buzzer - tied the game at 43-43 and provided a definitive momentum shift.
I told her at halftime, 'In the first half, the other girl (Santularia) outplayed you. Be the difference-maker this half,'" Andrews said. "That half-court shot and her three's, they were (the difference). She settled down and ran the offense real well, was patient with it and was composed."
Santularia opened the fourth quarter with another three-pointer, but Lansing answered quickly with a jumper from Twitchel, a putback by Nietzke and two more buckets from Twitchel. Santularia answered with a layup and another three-pointer - her sixth of the game - that put Mill Valley ahead, 53-51, with 2:17 left.
After that, it was all Lansing. Freshman Brittney Lang tied the game with a put-back. Then Twitchel, Lang and Radovich combined to go five-for-six at the free throw line in the final 76 seconds. Twitchel blocked a three-point try by Santularia with six seconds left that sealed the victory.
In addition to Darrow's 16-point effort, Nietzke scored 13 points and Twitchel had 12. Lang scored six points, Amanda Darrow had four, Cristiano and Radovich had three apiece and Christine Cordes chipped in one.
The victory was big for Lansing for a number of reasons. First, it keeps LHS in contention for the Kaw Valley League title as it remains just one game back of first-place Tonganoxie. The Lions also proved they have enough options that they can win even if Radovich has an off-day. Remember, Radovich scored a career-high 30 points in the first game against Mill Valley, and that game went to overtime. This time she scored just three and LHS won in regulation.
"I wasn't scoring, but everyone else was picking it up," she said. "It shows that our team is not just one player. Everyone can score. Everyone picked it up. Rachel, Twitch, Katie, they all picked it up. It was just a great team effort."
Lansing now has won seven of its last eight games and matched its win total from last year. LHS will shoot for another victory at 7:30 p.m. Tuesday when it plays host to Immaculata. The Lions beat the Raiders in overtime, 53-51, on Jan. 21 in the fifth-place game of the Tonganoxie Invitational Tournament. The Lions weren't fully focused that time out, but Nietzke said they would be more prepared this time.
"Coach always says 'If you don't get ready for Immac, you don't have a pulse,'" she said.