Junior Varsity boys savor hot streak, tournament title
It took longer than they'd hoped, but the members of the Lansing High junior varsity boys basketball team finally are finding their stride.
They picked the right time to do it, too.
The Lions (4-6) played three games in three days between Jan. 30 and Feb. 1. All three were victories. The three-game winning streak did more than just snap a five-game skid. It gave them a Kaw Valley League victory and a Lansing Junior Varsity Tournament championship.
"Hopefully it will spark us into the last month of the season," Lansing JV coach Dan Wessel said. "We needed those wins because they've been playing really hard during those five losses in a row. We needed (the wins) pretty soon or it was going to be a long year."
Photo Gallery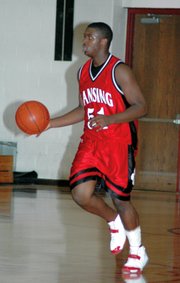 JV boys capture home tourney title
The Lansing High junior varsity boys basketball team survived a stiff challenge from Tonganoxie and captured the Lansing Junior Varsity Tournament championship on Wednesday evening. The victory was the Lions' third straight.
After beating Basehor-Linwood, 66-46, in the season-opener, Lansing dropped its next five games in a row. The fifth of those losses came in a 71-47 loss at Basehor on Jan. 27. It was then, Wessel said, that his team turned a corner.
"We decided to turn it around after the Basehor game because they knew they didn't perform to their ability," Wessel said.
Since then, LHS has played like a different team. Three days after the loss to Basehor, Lansing opened its home tournament with a 45-41 victory against Platte County. Just 24 hours later, the Lions used a big fourth quarter to pull away from the Perry-Lecompton Kaws, 55-40, in league action. The next day came the tournament title game, a 45-36 victory against Tonganoxie.
Just like the previous two victories, Lansing faced tough opposition from Tonganoxie. Tongie jumped to an early lead before LHS stormed back to take a 19-15 lead into halftime. Lansing maintained its four-point advantage throughout the third quarter.
A free throw by Chris Hill early in the fourth quarter increased Lansing's lead to 29-24, but that's when Tongie rallied. THS scored four straight points before Elias Moya answered with a jumper in the lane, but the Chieftains then scored four more to take a 32-31 lead with 3:10 left. Trailing for the first time since the game's third minute, the Lions sensed that the victory was slipping away. That's when they responded. A three-point play by sophomore forward Stephen Didde put them back on top. Then sophomore Kris Hernandez drained a pull-up jumper. Moya sank a free throw and Didde scored again from close range. Didde's bucket capped an 8-0 run that put the lead out of reach.
"The last three games we came out and we knew we could win," Wessel said. "That's a shift in your thinking, to know that you can win. Confidence is a huge thing."
Didde led Lansing in the title game with 14 points. J.T. Collins scored nine, Moya and Bobby Hauver had six apiece, Will Johnson had four and Hill, Hernandez and P.J. Sigle chipped in two apiece. Other JV players were Ryan Willcott, Matt Sittenauer and Mauritz Meyer.