Lansing will try to topple Tongie for third time
If anybody knows the Lansing High boys basketball team as well as the Lions themselves, it's the Tonganoxie Chieftains.
No team has played Lansing as many times as Tongie during the last two years. They've played five times. All five were Lansing victories. The Lions beat the Chieftains, 48-40, on Jan. 3. More recently, they picked up a 56-44 victory on Jan. 21 in the seventh-place game at the Tonganoxie Invitational Tournament.
When the teams square off at 7:30 p.m. Friday at THS, it will be the final time Lansing seniors David Kern, Cody Mohan, Chris Wagner, Matt Warner, Jeff Slater, Javen Kelly and Austin Reynolds suit up against Tongie.
"We pretty much know what we're getting with each other," LHS coach Don Allen said. "It comes down to who's going to execute. We know them extremely well. They know us. There's not a lot of secrets that we can throw at each other."
Lansing has executed well, for the most part, during its last five games - four of them victories.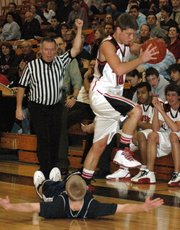 LHS started its hot streak with the second game against Tongie. After that, it defeated Basehor-Linwood and Perry-Lecompton before falling to Mill Valley on a buzzer-beater, 42-40, Friday night.
The Lions bounced back from the loss with a come-from-behind 42-33 road victory against the Immaculata Raiders Tuesday night. Slater scored a game-high 18 points in the game.
Lansing (7-8 overall, 5-4 Kaw Valley League) will try to ride the momentum of its latest win into the game against Tonganoxie. Beating the winless Chieftains (0-8, 0-15) might not seem like a big deal, but it would be to the Lions. A win would bring their record back to the .500 mark for the first time since early January.
"I think it's going to be huge," Allen said, noting that the victory would help his squad both in the league standings and in its positioning for substate.
Allen said the recent string of victories said a lot about the character of his players after they weathered such a difficult early stretch of games.
"I'm proud of the fact that these guys held it together," Allen said.
UP THE KVL LADDER
After a slow start, Lansing is inching its way toward the top of the Kaw Valley League standings. With four league games left, LHS is tied with Santa Fe Trail for fourth in the league. Mill Valley is in first at 9-0 after handing second-place Piper (8-1) a 44-37 loss Friday night. Bonner Springs is in third at 6-3.
SUBSTATE TAKES SHAPE
The Class 5A substate bracket continues to take shape with Lansing in a heated battle for the No. 5 seed. LHS and Topeka West both are 7-8 overall and tied for fifth in the eight-team bracket. The top seed is Mill Valley (14-1). Topeka Seaman (13-3), Highland Park (12-3) and Gardner-Edgerton (10-6) round out the top four. Paola (6-9) and Shawnee Heights (3-12) are the bottom two teams.