Who's No. 1?
Lansing girls to tangle with Tonganoxie Friday night for top spot in
KVL
All season long the Lansing High girls basketball team has had its sights set on winning a Kaw Valley League championship.
At 6 p.m. Friday when it travels to Tonganoxie, Lansing will try to take one more step toward achieving that goal.
The road to the championship runs through Tongie. The Chieftains (14-1 overall, 8-0 KVL) won the 2005 league crown and right now they're again atop the standings. The Lions (11-4, 8-1) are one step behind.
A Lansing victory Friday night would forge a two-way tie for first in the KVL. A Tongie victory likely would lock up a second straight title.
"We're in a great position in the league race," second-year Lansing coach Keith Andrews said. "However that shakes out, it shakes out."
The showdown not only is a chance for Lansing to earn a share of first place in the league. It also is a chance for the Lions to show the rest of the state that their No. 9 state ranking isn't a fluke. The game will be broadcasted in Douglas County and parts of Leavenworth County on Sunflower Broadband's 6News.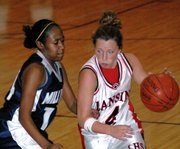 "It should be a great matchup down there," Andrews said. "The cablevision is going to be down there for the Game of the Week, so there will be a lot of hype and all that."
Tonganoxie handed Lansing its only league loss, 60-43, on Jan. 3. The keys this time around for LHS will be focus and intensity.
"It will take the same effort it took against Bonner : the same intensity," senior Rachel Darrow said, referencing Lansing's 63-41 victory in mid-January. "We've got to focus in practice. It doesn't just happen the night of the game. It happens the whole week before or two days before (the game). It's just going to take a lot of focus.
"We said revenge against Bonner. We'd like to get revenge against Tongie for putting it to us the first time."
Last year, Tongie defeated Lansing 58-36 and 67-29.
LIONS ON TV
6News Lawrence, a cable television station in Lawrence, will broadcast the Lansing-Tonganoxie girls basketball game on tape delay as its area Game of the Week. Broadcasters D.J. Whetter and Lynn Herrod will be on hand to call the game, which will air at 10:30 p.m. Friday and 11 a.m. Saturday on Sunflower Broadband. Copies of the broadcast can be purchased by calling (785) 832-6344.
Sunflower Broadband is owned by The World Company, which is the parent company of The Current.