Lansing's railroad bridges
The building of the Santa Fe Railroad in Lansing had to overcome several problems, including the crossing of Seven- and Nine-Mile Creeks and also to span the road to the west, which is now known as Ida Street.
A trestle, approximately 140 feet long and about 45 feet high, was built over Seven-Mile Creek. The elevation had to be raised for a distance of about two blocks to Kansas Highway 7. Many of you may remember the tracks running over Ida Street, behind the lumberyard and past the depot that is now our museum.
For the record: The structure over Seven-Mile Creek was an open-deck pile trestle constructed with large poles resembling telephone poles, only much larger in diameter.
I played on that trestle a lot because it was behind our house.
I remember after many storms, logs and debris would pile up and block the flow of the creek. Railroad workers had a big job clearing out all the logs. There was a time in the early '40s when the creek water was almost to the height of the trestle after a big rainstorm.
There were no houses there then that could be affected.
The reason the water got so high was that before 1930, the Seven-Mile channel east of K-7 bridge was wide. At that time, there was a ravine running from the highway north of Kansas Avenue to the creek that was filled in by the shale from the Kansas State Penitentiary coal mine. Because of that, the creek is now much narrower than it was back then.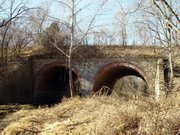 Thanks to Bob Hall, I recently had a chance to see the Nine-Mile Railroad Bridge and take the picture that accompanies this column. This bridge is a stone-and-brick arch structure. The underside of the bridge has six courses of brick. This type of bridge has three abutments, which are imbedded in the ground. The weight of the bridge is applied to the end supports or abutments.
There was another bridge between Lansing and Fairmount where the Santa Fe and Union Pacific crossed. It is no longer there now, but if you know anyone who might have a picture of this bridge, please share with our museum.